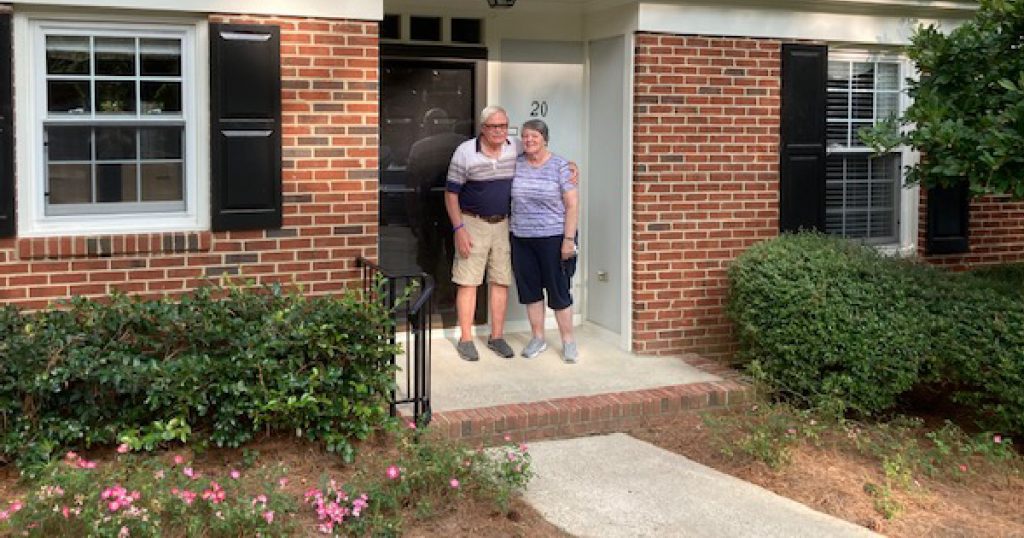 On a recent winter day, Cris and Judy Hoffman shared the story of their path to Springmoor. They didn't let COVID-19 interfere with the move to their newly renovated villa. The warm welcome they've received from other members of the community and the variety of events and activities have made for an easy transition to retirement living.
Judy is originally from New Jersey, and Cris grew up in Harrisburg, Pennsylvania. They met at Gettysburg College, where Cris was two years ahead, and the couple married after Judy graduated.
After living in Highland Mills, New York for 28 years, they moved to Clayton, North Carolina in 2006. In the fall of 2020, they made the move to Springmoor.
Why They Chose a CCRC for Retirement Living
The couple was very familiar with the concept of Continuing Care Retirement Communities (CCRCs). Judy's parents had moved into a CCRC in Sarasota, Florida at the age of 80. They both utilized the entire range of care, from independent living, to assisted living, to skilled nursing.
"It was such a blessing for them to have access to all levels of care on the same campus when they needed it," says Judy. She and Cris wanted to provide the same peace of mind for themselves and their two daughters.
The Hoffmans have numerous other relatives and close friends who live in CCRCs. "My cousin and his wife are in their 90s and have lived in a CCRC in Pennsylvania for years," says Cris. "We've seen how wonderful life is for them. Their positive experience, and those of others we know, reinforced our decision to go this route."
Making the Move to Springmoor During the Pandemic
In addition to being tired of home maintenance, the couple had become concerned about Cris doing yard work in the heat. "After so many years of owning our own home, it's a huge relief not to have to deal with those chores anymore," Cris says. He comments that Tommy in Springmoor maintenance even mounted their TVs and hung their pictures.
"We found out the wait for space at Springmoor might be three to five years, and we knew we had to plan ahead," says Cris. After two years on the waitlist, they received a call asking them if they'd like to tour a Springmoor villa, and it was love at first sight.
"We're so glad to be in a four-villa unit that backs up to the woods," says Judy. "We really like the privacy and seeing nature out the back windows. We enjoyed choosing new paint colors, flooring, and more."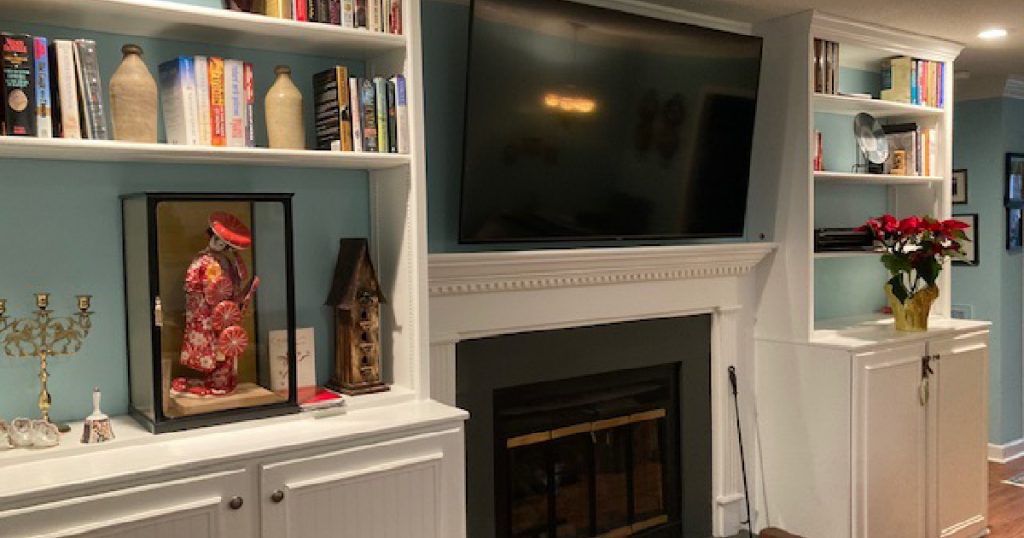 Judy explains, "Wendy Burgess in Sales and Marketing also arranged for a carpenter to make us beautiful built-in bookcases and cabinets on either side of the fireplace in the living room. We have lots of board games and photo albums we wanted to store." As Springmoor's Move-In Coordinator, Wendy supports new residents throughout the entire move-in process.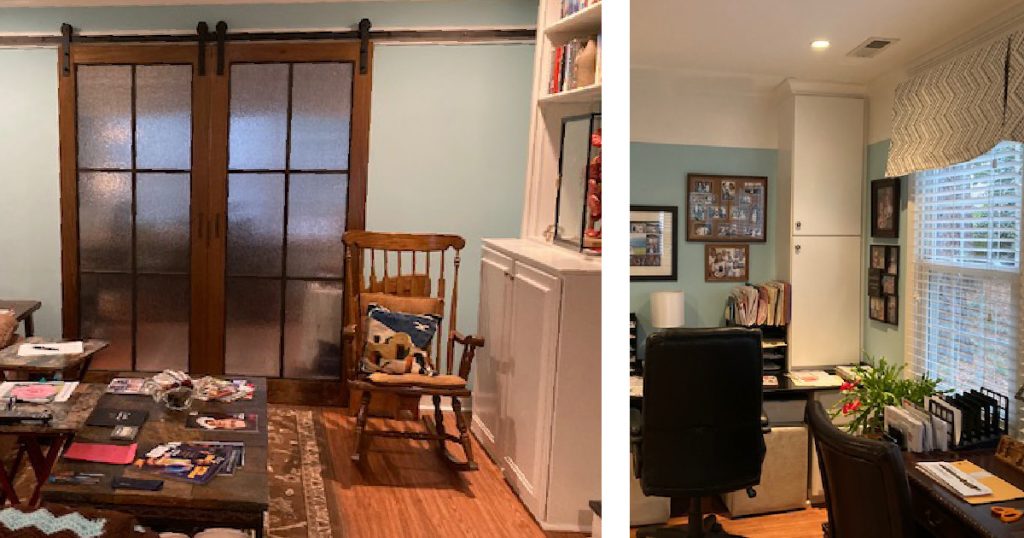 Cris adds that they had barn doors installed to section off the den where Judy uses a built-in desk, shelving, and cabinets as her home office. "The doors help reduce noise if I'm watching sports on TV in the living room, and Judy wants to read in the den," he says.
Even in the middle of COVID-19, the Hoffmans' house in Clayton sold quickly. "It turned out to be a seller's market," says Cris. "We knew from our first day at Springmoor that we'd made a great decision. We've been made to feel so welcome by the resident life folks, our neighbors, and the other residents."
Springmoor Was Highly Recommended
Their older daughter, Cindy, lives in Raleigh and has a good friend who is a social worker at a local hospital. "Cindy's friend said Springmoor was at the top of her list of recommendations for retirement communities," says Cris.
"One big benefit at Springmoor is access to COVID-19 vaccines onsite," he says. "We feel so fortunate." The couple has friends in Clayton in their age group who have not been able to get vaccinated.
Judy shares that they are very much looking forward to the pandemic ending so they can take part in the full slate of activities Springmoor offers. "We could see the tremendous amount of activities available for all kinds of interests in the calendar they send to the waitlist folks each month," she says.
She continues: "Even with the pandemic, Springmoor has managed to offer a lot of safe events, like the Harvest Soiree in October and the Reindeer Romp during the holidays. They're still offering movies, access to the library, and much more. There are a variety of things to do, even with COVID restrictions."
A Few of the Activities and Amenities They Like Most
The Hoffmans participate in the Connections Discussion Group led by Springmoor's two chaplains and have appreciated both the chance to exchange ideas on a wide range of topics and the opportunity to get to know other residents. They're also both planning to be trained as library volunteers.
They had heard from other residents in the discussion group that they should really look forward to Christmas because of the decorations and celebratory events. The Hoffmans were delighted to receive fruitcake, Christmas stockings with goodies, and wonderful holiday meals.
Judy particularly loves having meals delivered. "It feels like it's Christmas every day when the doorbell rings and there's dinner being delivered. The food here is delicious." When they choose to visit the dining room, it's only an eight-minute walk from their villa.
"Neighbors have brought bread, cookies, and welcome packages," says Cris. "And, it was fun to get the chocolate-covered strawberries that Dining Services delivered on New Year's Eve. We paired them with our own bottle of champagne."
Both of the Hoffmans like staying physically active. Cris is currently enjoying walking around the beautiful grounds, and he's looking forward to taking advantage of the fitness equipment in the Wellness Center.
Judy is eager to start playing ping pong and may organize an afternoon group. "I've been playing ping pong since I was old enough to see over the table. I participated in the Senior Games and was Johnston County Champion in the 65 to 70 age group. I made it to the Bronze Medal round at the state level."
Balancing Challenging Careers with Family Life
Judy worked her way up to Manager of Community Affairs for a chemical manufacturer in Harriman, New York and was with the company for 17 years. She then started her own consulting business and traveled the country giving workshops on how to interact with the media when dealing with a crisis situation.   
She wrote a book called Keeping Cool on the Hot Seat: Dealing Effectively with the Media in Times of Crisis. Syracuse University picked it up as a graduate-level textbook, and eventually about 12 colleges used it, including UNC-Chapel Hill. 
Judy has since sold the publishing rights to the University of Missouri. Keeping Cool on the Hot Seat remains available as an e-book through Amazon.
Cris was in Air Force ROTC at Gettysburg College and graduated as a second lieutenant. After training in Texas, he went to the Philippines. He was on active duty in the Air Force from '64 to '68, mostly as an intelligence officer, and he served in Vietnam.
"I come from a family of teachers," says Cris. "The GI Bill helped me go to grad school at Colgate after my stint in the Air Force." Before retiring in 2000, he taught middle school for 30 years in Suffern, which is about 30 miles northwest of Manhattan. The primary subjects he taught were American history and English.
Cris also coached soccer and baseball: "My claim to fame is baseball coaching. I coached two young men who are now in the majors—Walt Weiss, the bench coach for the Atlanta Braves, and Tony Defrancesco, who is first base coach for the Mets. It's been great meeting up with them both before games to talk about old times."
After he retired from three decades of teaching and coaching, Cris helped Judy with her consulting practice from 2000–2012. He assisted with the crisis communications workshops and handled the videotaping of scenarios, as well as providing some of the critiques of the participants.
Their older daughter Cindy lives right around the corner with her husband and three children. She is a therapeutic assistant at Veritas Collaborative, a residential facility for teens with eating disorders. She attended Utica College of Syracuse University, where she played basketball.
Their younger daughter Cheri lives in DC with her husband and has three step-children. She graduated from Syracuse University and earned her doctorate at Vanderbilt. She is the Director of Children and Youth Policy for the US Department of Health and Human Services.
The friendly Springmoor team invites you to schedule a COVID-careful personalized visit to our beautiful campus. We look forward to answering all of your questions about our amenities and activities. Click here to request more information, or call us at 919-848-7080.