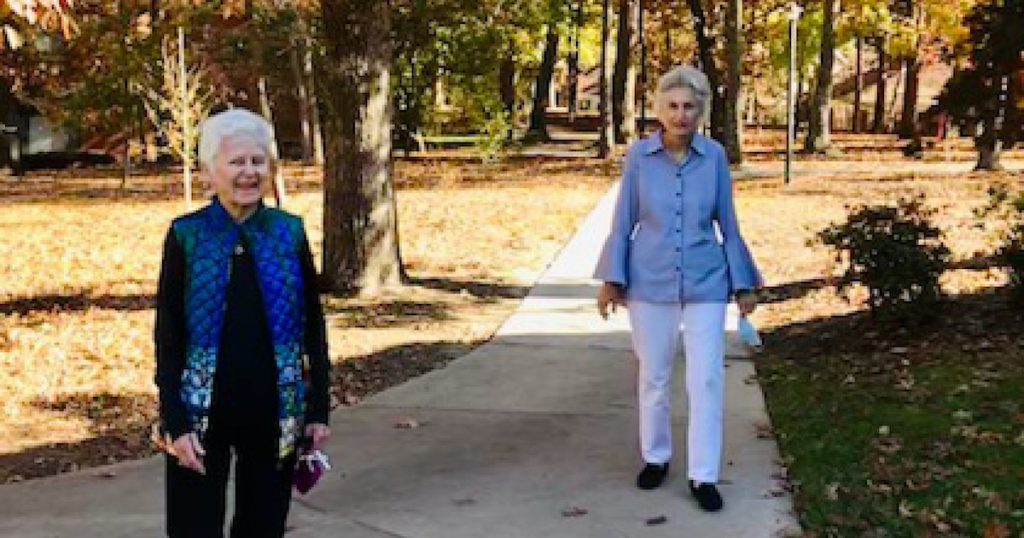 Whether or not they have family at Springmoor or living nearby, our residents tend to feel supported and well-connected. You will often hear them say that other members of the community are "like family" to them.
Throughout the coronavirus pandemic, our residents have enjoyed safe, socially-distanced services and a variety of opportunities for social interaction. As of this writing (November 2020), most of our activities have resumed with appropriate safety precautions in place. We continue to live stream events and offer virtual options for residents who don't feel comfortable with in-person group activities.
Rose Gabbard and Sylvia Doles, two Springmoor residents, recently shared how all that the community offers plays out in their daily lives. Sylvia moved here three years ago, and Rose has been a member of the community for two years. Both had lost their husbands before moving.
The two ladies didn't know each other until they joined the Springmoor community, and they have become close friends. When we spoke with Sylvia by phone on a sunny November day, she said: "Rose and I have a lot in common. She's one of the first people I would call if I needed help with something."
In a separate call, Rose echoed Sylvia's comments, saying, "It's wonderful having Sylvia for a friend. We talk every day, and in fact, I just got back from walking around the campus twice with her."
At Springmoor there are 43 acres of natural beauty to explore, and the two friends walk about 2 miles together on most days. Both ladies mentioned that if the weather is bad, they can walk for hours inside the building.
As part of one of their recent walks on the grounds, they had fun watching a parade of children dressed up for Halloween. The children and their parents were visiting the campus as part of our fall activities.
Staying Active, Staying Healthy
Neither heat nor cold nor rain nor COVID-19 keeps this senior from her fitness routine. At 88, Rose plays doubles at Raleigh Racquet Club two to three times a week. She's the oldest female player at the club. "Tennis gives me a great outlet both for exercise and socializing," she says.
In addition to playing tennis and her walks at Springmoor with Sylvia, Rose participates in exercise classes on our closed-circuit TV station. She completes one or two classes almost every day.
Rose also enjoys Masterpoint bridge and went out to play three times a week before the pandemic hit North Carolina. She now plays online. Whereas previously eight to 10 tables played in-person, now up to 30 tables of people participate online.
A Secure & Purposeful Life
"It would be easy to feel totally isolated during the pandemic if I still lived in my own home," Rose says. "When I moved to Springmoor, I had decided that I didn't want to take care of the house I'd been living in for 30 years. I wanted to move to a retirement community while I could still do things."
Rose appreciates the opportunities for giving back and nurturing the spirit that she can easily access on campus. She plans to start volunteering soon in the resident-run Springmoor convenience store and is looking forward to pricing items on Saturday mornings.
Prior to the pandemic she attended Vespers each Sunday night in Springmoor's auditorium. Currently she enjoys watching the service weekly on the Springmoor station.
Strong people ask for help when they need it, and Rose has benefited from the grief support services at Springmoor several times over the past couple of years. She speaks very highly of Springmoor's two chaplains and the individual spiritual counseling they provide.
Living Life to the Fullest
Sylvia was the Executive Assistant of Jud Ammons, Springmoor's founder and a resident of the community until he passed away this fall at the age of 85. Jud, Sylvia, and Rose enjoyed having pizza together a couple of times each month.
Sylvia had worked for Jud and his wife JoEllen for 48 years. "I tell people I was only 12 when they hired me," Sylvia laughs. "They were good people to work for. They were like family." She continues with some of her work responsibilities currently.
Like Rose, Sylvia participates in virtual exercise classes in her apartment and tunes in to Springmoor's Vespers Service on our closed-circuit TV station each Sunday. She also serves on several Springmoor committees, including the Food Committee, the Endowment Committee, and the Welcome Committee.
Sylvia is the Chair of the Welcome Committee, and Rose is a member. Each time a new resident moves in, Sylvia matches them with a member of the committee who reaches out to introduce themselves, answer any questions, and generally make the newcomer feel welcome.
"I love my apartment," Sylvia says. "They have everything here at Springmoor that you might want or need to do. Most anybody here would do anything for you."
Appreciating All that Springmoor Has to Offer
Sylvia mentions that one of the amenities Springmoor offers is a woodworking shop. Her neighbor was making cutting boards, and he offered to teach her. He assisted with cutting, and Sylvia completed the other steps like sanding and applying food-safe mineral oil for five boards. "I was proud of myself that I could do this. It's never too late to learn something new," she says.
She also likes the convenience of getting her flu shot on campus; this is the second year she has done this. A small team from Walgreens visits the Springmoor campus, and there is no waiting. She adds that she gets a vitamin shot every other month and appreciates simply being able to walk to the Springmoor clinic.
"People live a long time here," says Sylvia. "There are many people in their 90s, and there's one lady who is 101 and walks without a walker. I admire them, and they are an inspiration to me."
As a nonprofit, family-owned community, everything we do is based on one goal: improving the lives of those we serve. The activities, amenities, and services at Springmoor have been carefully designed to support social connections and maximize your health and happiness in your later years. To learn more about our Continuing Care Retirement Community (CCRC), simply click here or call us today at 919-848-7080.