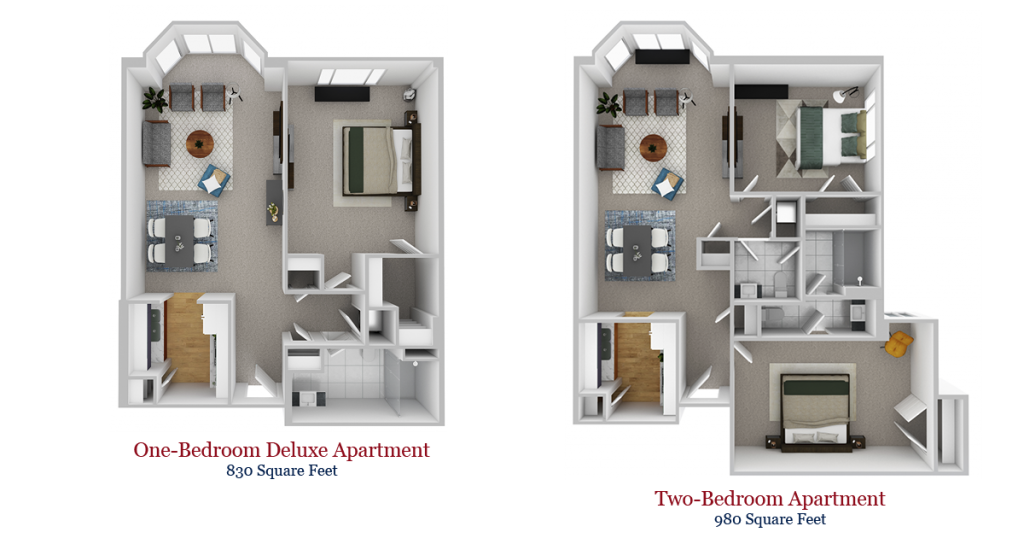 Do you find it difficult to picture yourself living in a retirement community? Our new 3D floor plans might help! At Springmoor, you choose from 19 distinct floor plans ranging in size from an alcove apartment of just under 500 square feet to a two-bedroom single-family home with a one-car garage (1,602 square feet).
We offer many options so you can select the residence that best fits your lifestyle. Floor plans of seven of Springmoor's residence types are now available in 3D on our website. Regardless of the option you choose, all residences have brick exteriors and full kitchens with dishwashers.
The Importance of Planning Ahead
The variety of floor plans we offer is one of many factors contributing to the popularity of our well-established community. If you think Springmoor is a match for you, you'll want to make a plan to visit and then get on our waitlist. You can decline a residence when it becomes available, but unless you're on our waitlist, we can't guarantee that we'll have room for you when you want to move in.
Of course the first consideration when reviewing floor plans is generally the amount of space you want and need to suit your lifestyle. Do you plan to do a lot of entertaining, or do you prefer to sit by a sunny window with a good book? Thinking about how you'll spend your time makes it easier to determine what furniture and accessories you'll need and how much "house" is just right for you.
Just Your Style
If you anticipate a lot of visitors, one of our larger floor plans might be the best match for you. Our two-bedroom deluxe floor plan is one of the most popular. Our one-bedroom deluxe, one-bedroom, and alcove apartments might fit you to a T if you prefer a smaller space. You'll want to get on our waitlist well in advance, whether you're interested in a house, a villa, or one of our smaller floor plans.
One thing to keep in mind when choosing a floor plan is that Springmoor offers numerous amenities and activities to enjoy outside of your living space. You can be out and about as much as you want, without even leaving campus. You'll also have access to our extensive grounds, our Wellness Center, the Meraki Arts Studio, and much more.
Customize Your Options
Regardless of the floor plan you go with, Springmoor provides you with numerous ways to customize your home. You'll select new paint colors and flooring for each room. For your new kitchen, our Move-In Coordinator presents you with multiple options for cabinets, countertops, and appliances.
You can also make larger modifications to your new space. Before you move in, the Springmoor staff can ensure, for example, that items such as ceiling fans and additional electrical outlets are installed to your liking. In many cases, you can add built-ins or even remove walls to create a more open floor plan.
Making Your Move
Moving to a retirement community may seem like a Herculean task, especially if you've lived in the same home for decades and have accumulated a lot of stuff! Our staff is here to guide you every step of the way. We can also refer you to experts to assist with rightsizing and the process of moving itself.
The streamlined move-in process that we provide at Springmoor translates into less stress and hassle for you. Our dedicated and experienced Move-In Coordinator serves as your primary point of contact throughout.
The Coordinator assists you with making all of your refurbishment selections, provides you with a thorough orientation to the community, and answers all of your questions about your upcoming move. She is also your liaison to other departments such as housekeeping, maintenance, and the health clinic.
One Size Doesn't Fit All
You have unique wants and needs, and we're here to make sure they're met. Due to COVID-19, we've suspended group tours and information sessions. Instead, you can take advantage of a 1:1 personalized visit to our campus.
Only a portion of our new 3D floor plans are available for you to view on our website; we look forward to reviewing any that are of interest to you during your visit. We also answer all of your questions and take you for a tour of part of the community, including the pool, wellness center, dining room, and common areas.
A visit to our campus is the best way to fully understand what a special place Springmoor is. We're taking all recommended precautions to help ensure your safety. To schedule a personalized tour to see your favorite floor plan in-person and get the answers to all of your questions, simply click here or call 919-848-7080 today.