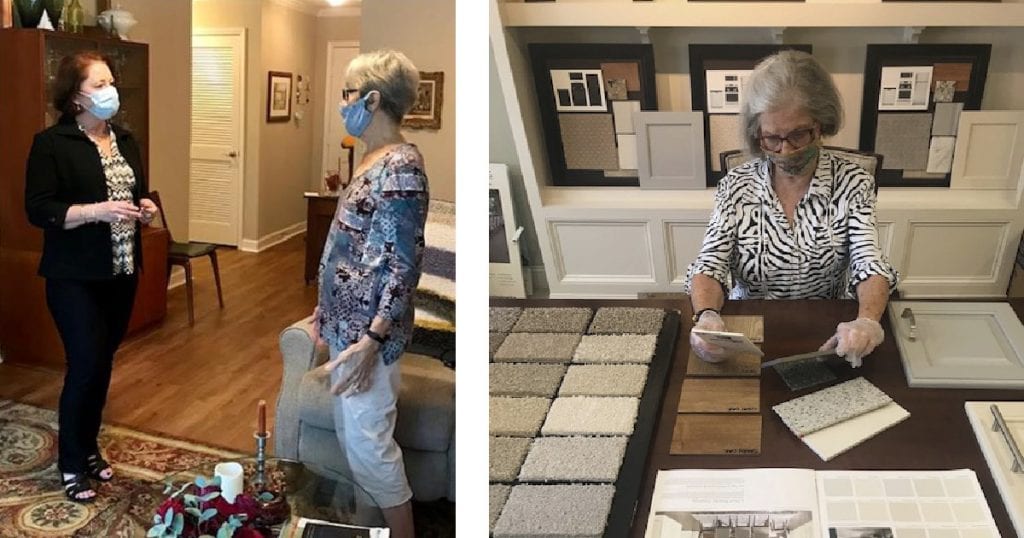 As we all continue to adjust to life during a global pandemic, you may be wondering if it's safe to visit Springmoor to go on a tour and gather more information. You may question whether it's the right time to consider becoming a resident of a Continuing Care Retirement Community (CCRC).
We at Springmoor understand why some people are putting major life decisions on hold until things return to normal. It's important to understand, however, that in order for space to be available in the CCRC of your choice when you're ready to move in, you must get on the waitlist.
As a result of coronavirus, the Springmoor team has been working hard to make the process of showing prospective residents what we have to offer quicker and easier than ever before. Those interested in our community can now visit our campus on a limited basis.
"We want to reassure you that we're taking numerous precautions to help you stay safe," says Susan Bordeaux, the Marketing Counselor at Springmoor. "As the COVID-19 situation has evolved, so has our response. We provide carefully designed personalized appointments so you can feel comfortable exploring the benefits of living at Springmoor in-person."
Know Before You Go
In advance of your visit, we spend as much time as you need answering your questions by phone, so that you know what to expect before, during, and after your visit to our campus. This helps keep our in-person tours and meetings as concise as possible.

When you arrive on campus for your tour, you fill out a short COVID-19 screening questionnaire in the reception area regarding any symptoms. We use a touchless thermometer to check your temperature and provide you with a mask if you don't have your own. Everyone at our senior living community wears a mask and practices social distancing.
If this is your initial visit, a member of our team will then meet with you in the marketing department. She'll review a campus map with you, provide you with information about the community and all of its amenities, and answer any questions you have. She also covers the financial aspects of moving to Springmoor in detail.
If you're already on our waitlist, after the brief COVID-19 screening, we escort you to the specific residence you're being offered and meet with you there. You're never penalized for declining when you're offered a spot. If you're anywhere near ready, however, please consider moving in because we can't guarantee exactly how long it will be before another opportunity arises.
Showing You What Springmoor Has To Offer, Safely and Efficiently
To protect the health of our current residents during the pandemic, visitors are typically limited to touring the South Village area to see the pool, wellness center, dining room, and common areas. You're welcome to visit our campus more than once if you like, and most folks do.
Another way to get a feel for Springmoor is by car. You can drive through the community for a look at our lovely grounds. One recent visitor told us she was able to have a socially distanced conversation from the safety of her car with a resident who shared some of the many wonderful things she likes about the community.
Unfortunately, visitors are not able to freely converse with residents in-person during the tour as they could pre-COVID. As soon as it's safe, you can request a face-to-face visit with a resident with similar interests and enjoy a meal in the dining room.
Feeling Good in the Neighborhood
When a spot opens up, most of the people on Springmoor's waitlist are moving in despite COVID-19—and they say other members of the community have been extremely welcoming. "I am blessed to have found this lovely shelter with friendly, supportive staff and residents," says new resident Carol Mina. "Even though I moved in during the pandemic, I have felt safe and cared for."
"My new friends have interesting backgrounds and talents," Carol continues. "They are eager to share in this new adventure."
Here's what soon-to-be resident Sue Haney says about being new to the community: "I'm in the process of moving to Springmoor during the COVID-19 pandemic, and. . . I feel assured that the management and staff have followed all of the protocols and practices to keep the residents safe."
Sue says that as a nurse, she always pays careful attention to the safety and health measures that are in place. "I feel certain that the health and care of the residents is a priority at Springmoor. I would rather live in a community where the environment is controlled—the safety of the residents is obviously paramount at Springmoor."
Once you move in, members of our Welcome Committee will reach out by phone and invite you to take a walk or go to dinner. Despite the virus, you can socialize with other residents while observing appropriate safety precautions such as social distancing. Don't be surprised if you find a housewarming present from another resident outside your door.
If you're like most of us, you may feel intimated by moving to a new place where you don't know many people. "Moving to Springmoor actually provides you with a huge pool of people with common interests and easy access to get to know them," says Susan. "The comment I hear repeatedly from new residents is that they can't believe how friendly the people here are and that this goes so far to making them feel at home right away."
We encourage you not to postpone your preparations for making exciting life changes because of the pandemic. The longer you put off visiting and getting on our waitlist, the more the chances increase that a Springmoor residence might not be available to you when you're ready.
Contact us today online or at 919-848-7080 to schedule your personalized tour. We're also happy to meet with you and provide a tour via FaceTime or WhatsApp.