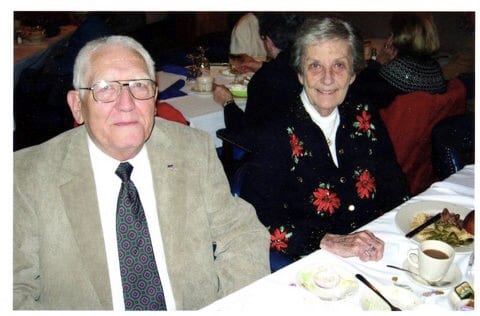 Safety, security, and peace of mind—you probably consider them to be priceless. As an Activities Assistant in the Stewart Health Center, Jill Spencer helps provide seniors with these benefits of a Continuing Care Retirement Community (CCRC) on a daily basis. As the daughter and niece of two Springmoor residents, she shared her unique perspective regarding how a CCRC has been invaluable for her family.
Jill remembers the exact date of her parents' move to Springmoor more than 15 years ago: April 21, 2005. "I was so glad they were finally getting moved in," she says. "I'll never forget that day."
Her parents' journey to Springmoor actually began several years earlier. Jill had volunteered at a nursing home run by a local hospital and quickly determined she wanted to work with seniors full-time. She accepted a position at Springmoor in April 2003.
Born and raised in Raleigh, Jill earned a degree from Appalachian State University in commercial design and pursued a career in the art gallery business for 22 years. Becoming an Activities Assistant at Springmoor was a dramatic career shift for her, and one she's extremely happy she made.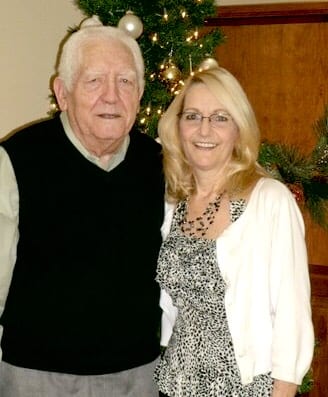 "I'm a firm believer that God put me at Springmoor to prepare myself so I could help my parents," Jill says. "Today my father lives in independent living at Springmoor, and my uncle lives in Stewart Health Center."
Helping Her Parents Choose a Retirement Community in Raleigh, NC
Jill's positive experiences as an employee at Springmoor played a pivotal role in her parents' decision to move to the community. "I didn't know much about the long-term benefits of a CCRC before I began working at Springmoor," she says. "I quickly learned that you get the security that you will always have somewhere to live no matter what stage of health you're in."

The year before Jill's parents, Jim and Dee Spencer, moved to Springmoor, her mom had been diagnosed with Alzheimer's. Jill says, "I wanted my parents to be able to always live in the same place, regardless of the type of care Mom might need. If they had moved to an independent living community for retirees or even assisted living, eventually Mom would have to go somewhere else. Dad would have to drive to visit her or have someone take him to her."
Receiving the Care You Need, When You Need It Most
Jill's parents started out their life at Springmoor in a villa. "They were thrilled to be able to remain together, and they lived there for four or five years," she says.
"Then I had to pull the bossy daughter card," she continues. "I said, 'Dad, it's time. I can't watch you drive yourself into the ground taking care of Mom.'" Jim Spencer was dressing his wife, preparing meals, monitoring her blood sugar, and providing her with the constant support that people with Alzheimer's need.
Jill had frequently seen in her work with seniors that one spouse would experience a decline in their own health while attempting to care for their wife or husband with a chronic illness. "At Springmoor, I knew there would always be supportive living in the Health Center, and Dad wouldn't have to work himself to death trying to care for Mom."
Jill points out that, during a 24-hour period, more than 20 people meet the needs of a Springmoor resident with Alzheimer's. "Between three shifts, there are at least six or seven people who have contact with that resident," Jill says, listing off CNAs, nurses, activities staff, dining services staff, and housekeeping, among others.
When her mom first moved to Stewart Health Center in March of 2010, it was a difficult transition for everyone for the first couple of months. "My parents missed each other a lot," says Jill, "but after a while they both settled into a routine and it was definitely the right decision. Dad was able to just walk over and visit Mom until she passed away in 2016."
Continuing to Thrive
About six months after Dee Spencer moved to the Health Center, Jim Spencer transitioned to an alcove apartment, where he has now lived for over a decade. "Dad is 92 and has macular degeneration, but he's completely independent," says Jill. "I'm really proud of how well he's doing."
She talks to her dad on the phone every day. Before the pandemic, Jill would see him two or three times a week, but now she avoids contact to keep him safe.
Providing Hands-On Care
In her role in the Activities Department at Stewart Health Center, Jill helps keep residents stimulated, engaged, and connected to their families. She and the other members of the team have the flexibility to accommodate each person's specific needs and preferences.
Jill provides essential social interaction and monitors the moods of multiple residents each day. Depending on each individual's needs, she might give a manicure, play cards, or read with them. "I know firsthand how well Springmoor cares for members of the community at all levels of living," she says.
Jill sees her uncle every day in the course of her work at the Health Center. Her aunt and uncle, Lib and Bob Spencer, moved to Springmoor in 2009 on the recommendation of her dad. Her aunt passed away about six years after the move, and then her uncle moved from the West Apartments to the Health Center.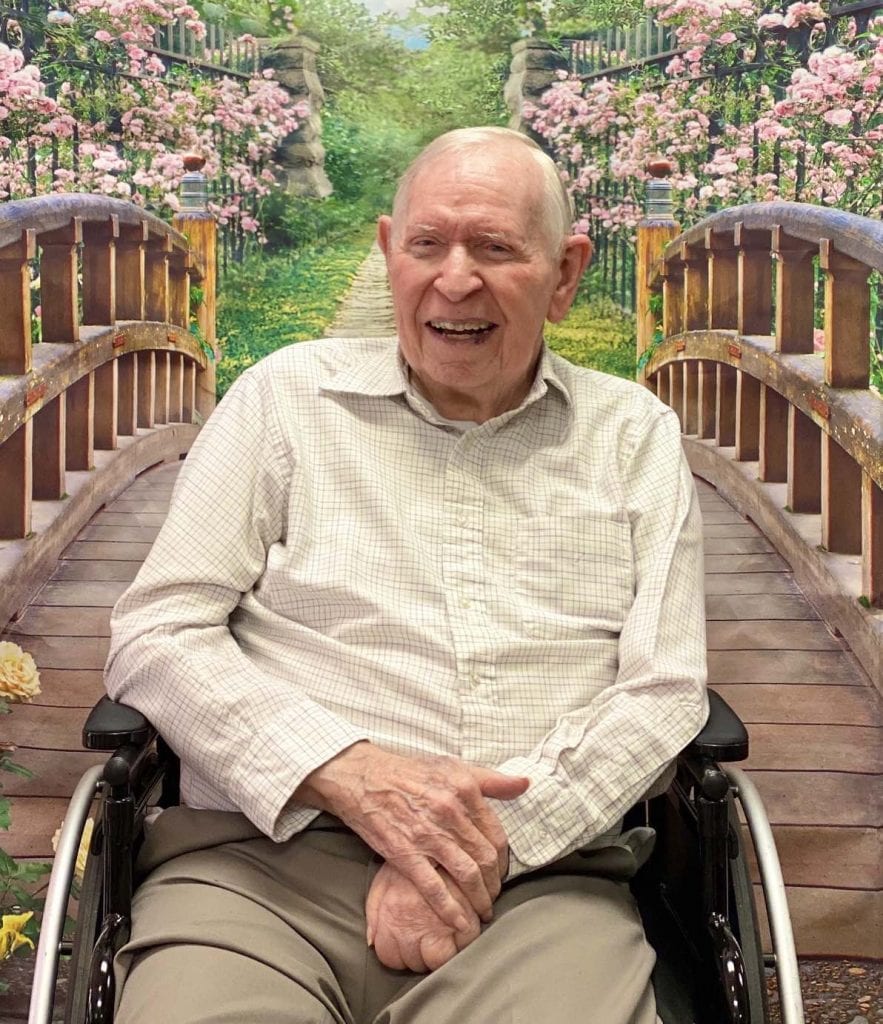 Jill also helps to sell donated furniture in support of the Springmoor Endowment Fund. "The Endowment Fund is such a blessing," says Jill. "It gives extra help to those who run out of funds, through no fault of their own. The Endowment Fund is near and dear to me."
The friendly folks at Springmoor are currently accepting appointments for personalized, on-site visits to the community. We have extensive COVID-19 safety protocols in place: mask-wearing, social distancing, frequent cleaning of high-touch surfaces, and more. We're also offering virtual tours. Contact us today online or at 919-848-7080 to learn what you can expect before, during, and after your visit to our campus.