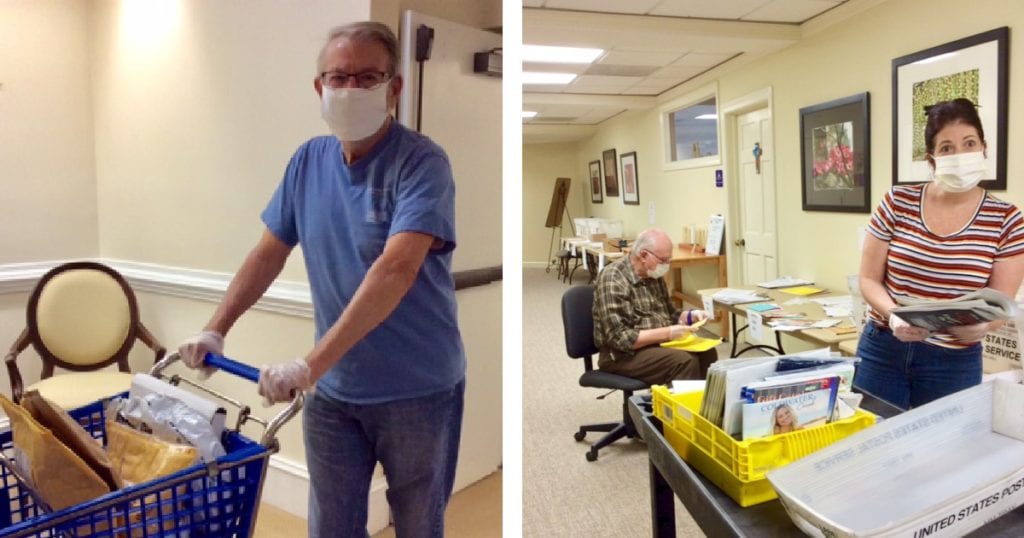 Since mid-March 2020, a group of Springmoor residents has been volunteering to handle the on-campus mail. Two residents—Jerry Fuller in North Village and David Waters in South Village—spearhead this effort and coordinate the other volunteers.
In order to help ensure residents stay healthy, Springmoor staff screen all employees, contractors, and other essential visitors to the community by taking their temperature daily. Visitors also answer a short list of questions regarding the presence of symptoms and any possible exposure to the virus.
The US Postal Service wasn't in accord with this process, and the Springmoor administrative team would not allow the postal carrier assigned to the community to enter without being screened. As a result, the carrier began dropping off mail for all residents in the North Village lobby, rather than distributing it to their mailboxes.
Imagine the daily contents of your own mailbox multiplied by more than 600, and you'll have an idea of the mountain of mail that arrives at the community every Monday through Saturday. Letters and birthday cards mingle with checks, bills, and important legal, financial, and government documents. And, as a wise person once said, "Conversation is fleeting, but junk mail is forever."
I Get Mail; Therefore I Am.
With support from Leah Willis, Resident Life Director, residents created the current mail system to meet the urgent need to distribute the mail quickly and accurately throughout the Springmoor community. These volunteers filled the void left by the carrier, who previously spent an hour or more in both the North and South Village mailrooms putting the mail in each resident's box.
Before the coronavirus crisis emerged, both Jerry and David were coincidentally volunteering regularly at Duke Raleigh Hospital. "I've put in 17,000 hours there since 2004," says Jerry, who worked three times a week for six hours each day running a computer data base in the purchasing department.
David worked with patients in the testing clinic. He explains, "Folks needing to be admitted to the hospital come in to get blood tests and instructions for admittance and surgery from the nurses. My job is behind-the-scenes, preparing needle kits and other items like scrub packs, so the nurses could just grab them and go."
With the hospital's volunteer program no longer an option due to COVID-19, the two men were able to take on coordinating Springmoor's mail system. David and his wife Pat work with five other volunteers to serve the south side of the community. Jerry has a crew of six on the north side, which is home to about twice as many residents.
Many Hands Make Light Work
After all of the mail arrives at North Village, the front desk calls Jerry and David to alert them, and they contact their volunteers. The mail may arrive as early as 10:30 am or as late as 2:20 pm. "We joke about having to be ready to go at a moment's notice during this time," says David.
The mail procedures for the two sides of the community are fairly similar. Each Springmoor resident has two mailboxes. One is a box for "in-house" mail such as birthday cards, meeting notices, and the like. These boxes are about half the size of the residents' official US Postal Service boxes, which are off-limits to the volunteers.
Volunteers place all of a given resident's first-class mail in their in-house mailbox, whereas all second- and third-class mail (and anything else that doesn't fit) must be taken to a separate location. On the north side, there are tables outside of the Resident Life office with bins with hanging file folders with each resident's name. Packages go on separate tables, and residents visit this area to pick them up, along with the mail in their hanging folder.
In South Village, the system is equally efficient. After the shuttle brings the mail to the south side, David, his wife Pat, and five other volunteers place the first-class mail in each resident's internal mailbox. Volunteers deliver the second- and third-class mail, along with any overflow and packages, to each resident's apartment door.
Those Who Can, Do. Those Who Can Do More, Volunteer.
When asked what he likes most about helping to run the postal system at Springmoor, Jerry says, "Everybody needs something productive to do. You can't watch old Gunsmoke reruns all day!" A CPA during his career, he is accustomed to very detailed-oriented work. After the other volunteers finish, Jerry ties up loose ends, such as mail with invalid addresses. He also checks the mailboxes in the evening. If a resident hasn't picked up their mail or a package, he asks the front desk to call them.
A native of Des Moines, Iowa, Jerry was transferred to the Raleigh area by Martin Marietta Aggregates in 1985. He and his wife, Beverly, moved to Springmoor in 2004. "We looked at retirement places in the Midwest, but it snows there," he chuckles.
"I retired first," Jerry says, "and then my wife [a homemaker] was able to retire too when we moved to Springmoor. The only things we gave up when we moved were cooking and cleaning. All you have to do before you eat dinner is put on a clean shirt. All you have to do to clean up is get up from the table. We were about 70 when we moved in, but we should have done it sooner."
David was a nuclear engineer, and he says that attention to detail and a drive to get things correct and organized are helpful in his volunteer role. Originally from Ohio, David and his wife Pat moved to Springmoor in 2018. They've enjoyed meeting new people while volunteering to help with the mail.
Contact the friendly staff at Springmoor online or at 919-848-7080 to find out more about how you can become part of our caring, active senior retirement community.