Regardless of how you approach spirituality, connecting with your spiritual side can help you be more gracious, compassionate, optimistic and self-actualized. Fortunately, Springmoor provides many paths to spiritual wellness, which are guided by its co-chaplains, Juliana Lindenberg and Lori Higgins.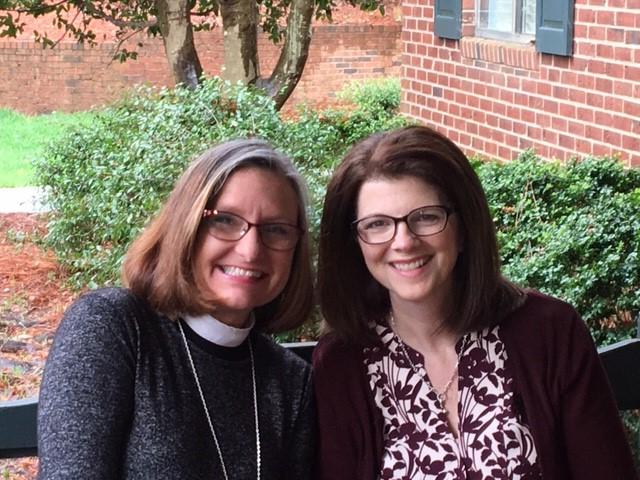 Juliana and Lori serve the community in ways that go far beyond the traditional worship services. They bring people together through a variety of groups and programs meant to enlighten and uplift. Plus, the pair is always on-call and ready to support residents and their families as well as staff members, no matter the challenge.
Talking and watching
The chaplains' role includes leading programming that simply brings people together, independent of faith or beliefs. One of Lori and Juliana's favorite examples of this is leading the "Listening to Your Life" discussion group.
"'Listening to Your Life' is a place where residents come together to discuss different topics and share their own personal stories," Lori said. "With so many different stories and different people, everyone learns about the lives of their neighbors in a really cool way."
"We start with a topic that kind of pushes people to reflect on their experiences and how they fit together," Juliana added. "It's a fun group, we're actually going to expand it."
Speaking of planning and programming, Juliana and Lori have each been with Springmoor for less than two years, so they make sure to continue many of the popular programs that the prior chaplain hosted. One of these programs—a favorite of theirs and the members of the community— is the Monday Movie Matinees.
"The Monday Movie Matinees show movies that don't necessarily have religious or spiritual elements to them, but they're all meant to provoke thought," Juliana said.
For example, "It's a Wonderful Life" was shown for the holiday season. That film certainly has some religious elements to it, but even more so, it simply makes you think about life. Juliana said the same about the newer animated movie, "Coco," which also was shown as part of the movie series.
"It was wonderful," Juliana said. "It brings up great questions about family and intergenerational relationships, which a lot of people throughout our community can relate to. It led to a great free-formed discussion, which is really our goal with the movies."
Caring above all else
"First and foremost, our primary responsibility is pastoral care," Juliana explained. "We're also building support systems that go beyond just the two of us."
Lori added, "We provide spiritual support for all of the residents, and psychological support to the Springmoor community as a whole, which includes staff."
In addition to forming special relationships with individuals throughout the community, Juliana and Lori also lead groups focused on helping people get through challenges and life changes together. They want fellow residents to feel—and at times provide—the important touch of sympathy and compassion for their friends at Springmoor.
"We do serve in ministry, but it's also about building a real community of support. That means just being present with residents as much as we can through all of life's challenges," Juliana added.
A special, humbling role
Juliana and Lori realize the gravity of their roles as chaplains.
"I enjoy being the spiritual support for residents and their families, wherever their journey has taken them. It's a great privilege to journey with someone," Lori shared.
Offering her perspective, Juliana added, "Being present with [residents and families] is so important. Walking with them wherever they are in life. Life doesn't end when you're retired, or even when you're sick. Everyone can participate in this community, and we're here to help make that happen."
Collaborating and connecting
"One thing I love is how we truly share the ministry," Juliana said of her working relationship with Lori. "We have our different gifts, so we take on different tasks well and we work very well collaboratively. My hope is, even though we're relatively new, that between Lori and me, members of the community can approach either of us, no matter what they need."
Lori expanded on this by saying that their roles are a bit of a shift for Springmoor. The community used to have a head chaplain and an associate chaplain, but Juliana and Lori are co-chaplains. These roles create a more collaborative environment and allows each of them to share their strengths.
Having co-chaplains helps the pair increase their level of service to the community as well, as Springmoor has many residents at all stages of their retirement lives. Lori and Juliana also let residents take the lead on certain spiritual programs and groups like book studies, which help residents grow and develop their spiritual wellness.
Welcomed with open arms
Springmoor's enthusiastic and supportive resident community helped Juliana and Lori feel welcomed in their roles from the start.
"Being relatively new, I'm amazed at how wonderful and welcoming Springmoor has been," Lori said. "The staff and residents have helped me get acclimated. We're also empowered by how Springmoor makes it a part of its philosophy to care for the whole person, including spirituality. That's really important to our role."
Now that Lori and Juliana have been graciously welcomed into their roles by the Springmoor community, Juliana concluded by sharing how important it is to reflect that in the work that they do, no matter one's faith.
"We've been clear from the beginning that we need to be reaching out and making sure that people feel completely welcomed, regardless of faith," she said. "Because if we can't create an environment that's welcoming, then we simply aren't doing our jobs!"
It's evident that as part of Springmoor's support of one's overall wellness, Lori and Juliana are doing their jobs quite well. Their contributions make Springmoor an even friendlier and warmer place, which should be experienced firsthand.
To get in touch about Springmoor in Raleigh and get a sense of how welcoming this place truly is—to everyone—simply click here or call 919-848-7080 today!