The modern-yet-southern cities of Raleigh, Durham and Chapel Hill make up North Carolina's "The Triangle" region, which is quickly becoming one of America's top destinations for retirees. With so much to offer, it's easy to see why this is the case.
The Triangle has something for everyone, from arts, entertainment and culture to athletics, academics and top universities' healthcare. Making its name decades ago as a business and research hub in the South, the area now holds a nationwide reputation as an ideal spot to retire. Living in Raleigh, in particular, has its benefits, especially when you consider that it's home to Springmoor—a top-rated Life Care Retirement Community.
Plus, with a temperate climate and long periods of pleasant weather typically stretching from March through November, living in Raleigh gives you ample opportunity to enjoy the outdoors in The Triangle. This is especially true when the short winter season ends and springtime blooms: March, April and May in Raleigh all rate highly on the BestPlaces Comfort Index. So, when spring arrives at Springmoor, what kinds of adventures await you—all easily within reach—in and around The Triangle?
The great outdoors
When spring fever hits and you're itching to explore, The Triangle has plenty of sights to see and things to do outside. While the seasonal blooms on Springmoor's 43-acre campus are surely a sight, you won't want to miss these springtime highlights that are all easily within reach when you're living in Raleigh.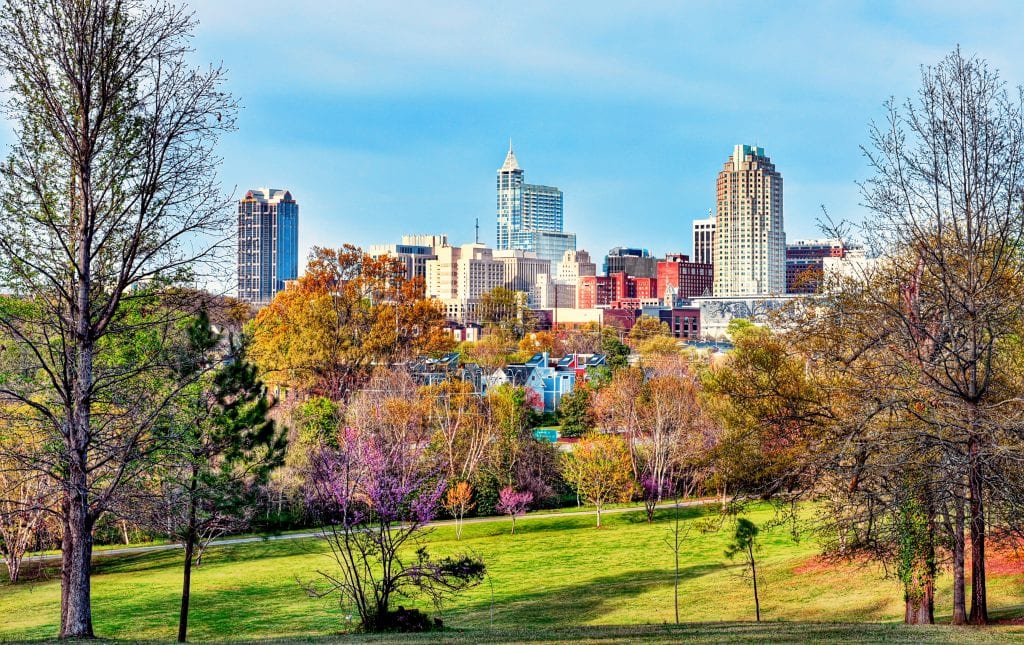 If you head to the northwest corner of The Triangle, you'll find the Duke Lemur Center in Durham. This unique experience, sponsored by the prestigious Duke University, lets visitors learn all about lemurs—the world's most endangered mammals—and the research being conducted to protect them. And this attraction is a somewhat hidden gem, with one recent reviewer remarking that they've lived in the area for 20 years and just became aware of the Lemur Center. So, don't worry about others' urges for springtime adventures causing crowds at this acclaimed walking tour.
With the boundaries of The Triangle, you'll also find some great spots to observe and explore nature. The North Carolina Botanical Garden, home to many plant species found nowhere else in the world, features more than 1,100 acres of garden and conservation areas. You'll also find the Jordan Lake State Recreation Area to the west of Raleigh, where members of the Springmoor community regularly venture to enjoy pontoon boat tours and a taste of the "lake life."
Of course, these attractions just barely scratch the surface of all the possibilities for exploration throughout the Triangle—there are way too many to list here!
From 'Play ball!' to March Madness and more
Springtime means the return of baseball and other seasonal sports after the chill of winter recedes, and The Triangle has plenty of choices for fans of all varieties. You may have heard of the Durham Bulls from their Hollywood connection to the 1980s baseball comedy "Bull Durham," and the Bulls still bring the heat as the Tampa Bay Rays' Triple-A minor league affiliate. So, if you're looking to catch America's pastime played at a high level all spring and summer, it's right in our backyard.
Because The Triangle is also home to so many top-flight universities, it's a mecca of sorts for college sports. You can witness the storied basketball rivalry between Duke and North Carolina, and track their progress during the March Madness tournament. Plus, those two schools, in addition to Wake Forest University and NC State, all consistently rank in the top 25 of college baseball.
Beyond baseball and basketball, The Triangle is also home to many competitive high school and college teams participating in spring sports such as lacrosse and track and field. And springtime is when the pro hockey playoffs begin, so you can cheer on the NHL's Carolina Hurricanes from downtown Raleigh's PNC Arena.
Let us be your guide
Fortunately, if you don't feel like doing the research, or if you come here from out-of-state (like Ellen and Michael did), Springmoor curates a full calendar of monthly events! Some favorite events that show our residents the best of The Triangle include:
Raleigh historic tours from tour guide Parker Call
Trips to the area's newest and most flavorful restaurants
Visits to the region's most interesting museums (City of Raleigh, Ackland Art, etc.)
…and many more one-of-a-kind attractions!
Springtime in The Triangle is an exciting time, as the vibrancy of new blooms and new life inspires everyone. At Springmoor, we harness this sense of activity and energy in the spring, of course, and also year-round. We're also glad to provide a worry-free, maintenance-free lifestyle for today and for tomorrow, no matter what each season brings.
If you're considering living in Raleigh for your ideal retirement, we hope that you will consider Springmoor. To learn more, simply click here to download our free, informative information packet. You can also request it by phone at 919-848-7080. We hope to hear from you soon!