As you approach or continue retirement, you've probably realized that if there's one thing you want to add to your life at this stage, it's this: simplicity. Fortunately, if you're considering a community like Springmoor for your NC retirement, simplicity comes standard.
By choosing a smaller space like a one-bedroom residence at Springmoor, you're essentially adding simplicity by eliminating all the headaches associated with living in a space that's too large for your current needs. And as smaller-space living has become increasingly popular in recent years, people everywhere are unlocking (and talking about) the benefits of living large in cozier spaces.
Why choose a smaller space for your NC retirement?
Aside from the obvious benefit of having less space to clean and manage, there are also some hidden—or at least not frequently considered—advantages of choosing a small home. The popular home design and improvement site, The Spruce, shared a few of these benefits in a recent article outlining why "small spaces are the best spaces."
"Living in small spaces has genuine advantages when it comes to cozy-making," author of the article and interior design expert, Kelly Weimert, wrote. Beyond that, Weimert shared that smaller spaces tend to be more organized, are cheaper to decorate, promote "stress-free minimalism," are easier to clean, are more sustainable (environmentally and financially) and are easier to personalize.
If you're looking to unlock these benefits as part of your NC retirement, you're in luck! Springmoor offers three one-bedroom floor plans. Let's explore them.
The Alcove, the One Bedroom and the One Bedroom Deluxe
All three of Springmoor's residences in the one-bedroom range include all the features you'd expect: full kitchens, walk-in ceramic tile showers, window dressings and more. Plus, the tastefully designed interior corridors and porticos keep you connected to the array of things to do and Springmoor's lovely common areas. And yes, these homes are all customizable!
First is the Alcove residence. It features a generous living space and a private balcony or patio. Even with its smaller footprint of 494 square feet, it's an extremely functional space that you will enjoy making your very own. We've heard from community members living in the Alcove that their favorite part is how it lets you enjoy the Springmoor lifestyle at an impressive value.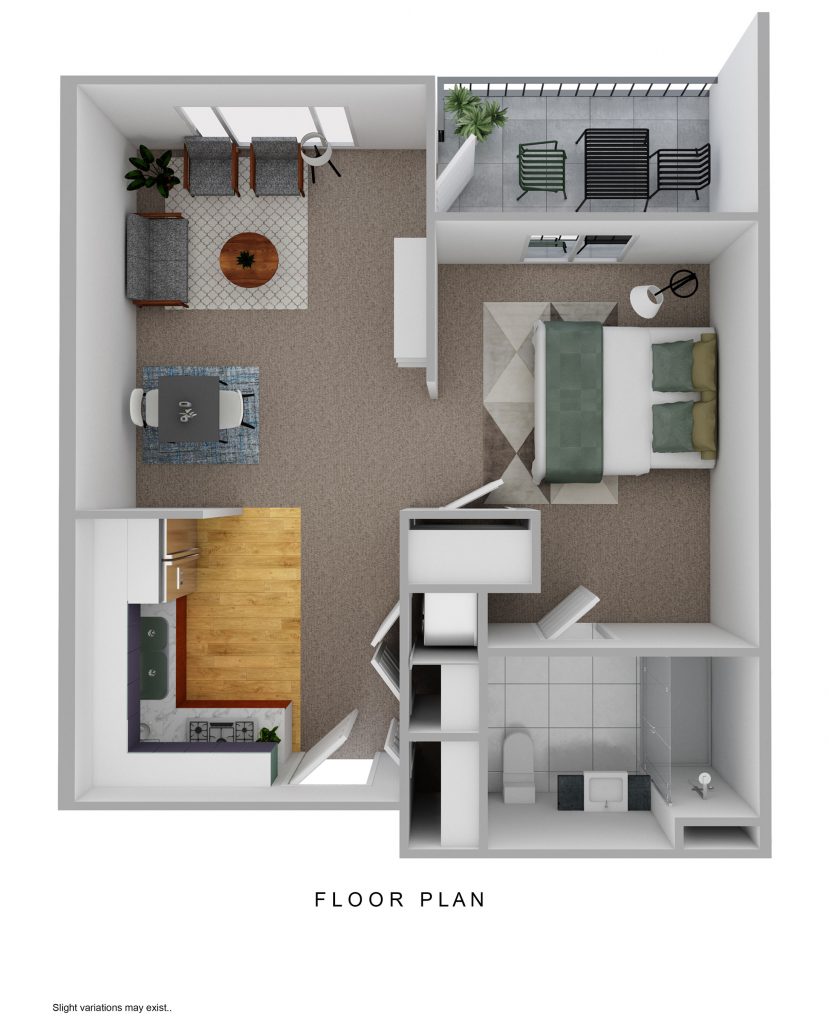 Second is the One Bedroom residence. This floor plan features a contemporary open-concept layout from the kitchen to the porch, which helps it feel roomier than its size (671 square feet) especially when entertaining the grandkids or neighbors. And when the entertaining ends, you can retreat to the spacious bedroom that features a picture window and walk-in closet.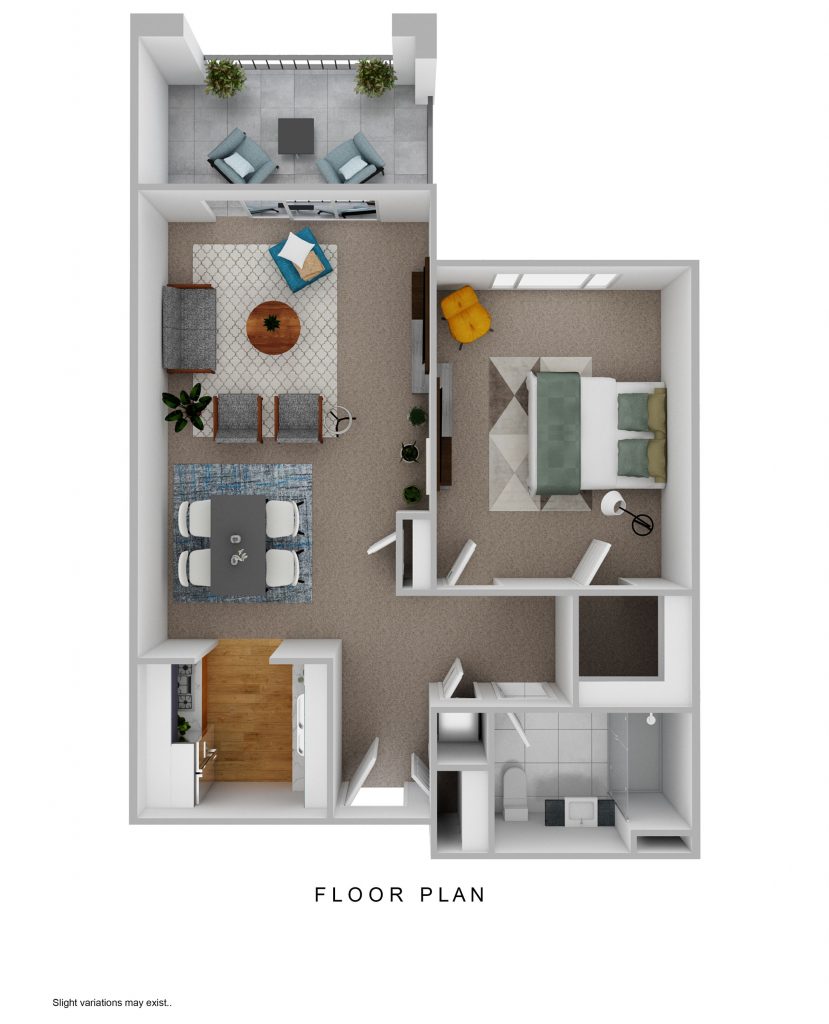 Third is the most popular of the one-bedroom choices, the One Bedroom "Deluxe." If you choose Springmoor for your NC retirement, you'll see why so many people who live here love the freedom and simplicity that this residence gives them.
The great room gives you the freedom to arrange it how you'd like, whether that means including your favorite sectional or even your upright piano. The contemporary and customizable kitchen suits your design and culinary taste. The beautiful bay window yields even more space and creates a bright nook overlooking the gorgeously landscaped 43-acre Springmoor campus. It all adds up to more than 800 square feet of simple enjoyment.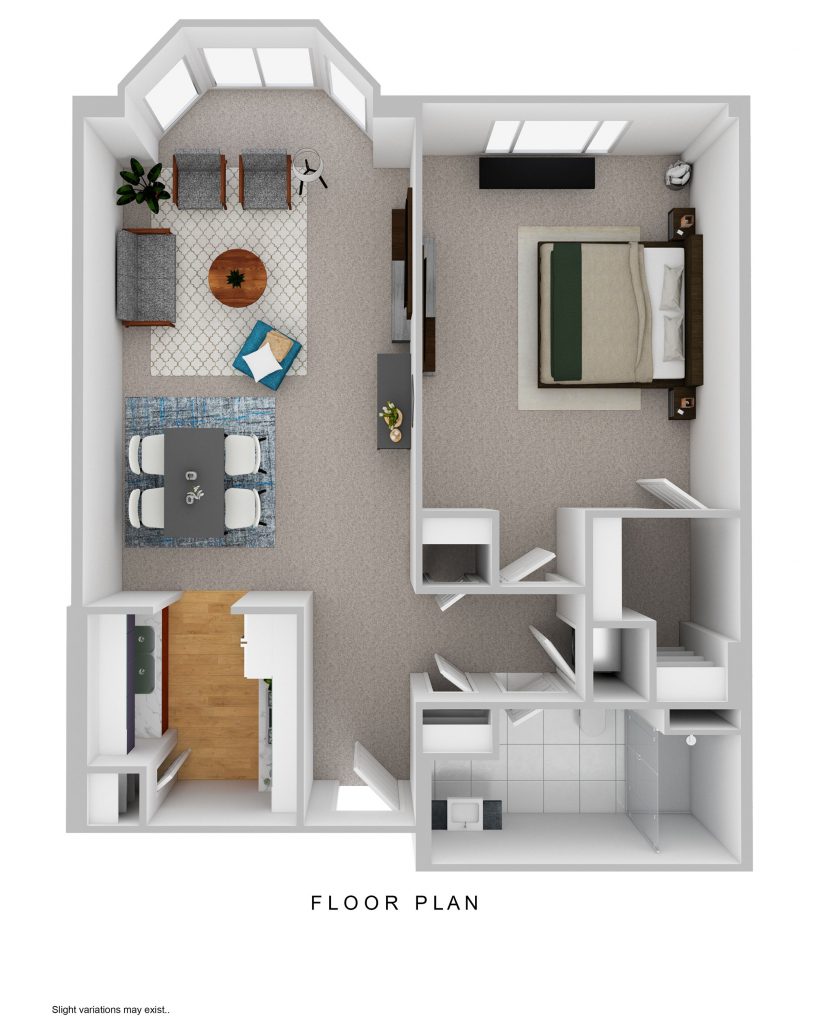 So, what's the best part about choosing one of these simple, yet highly functional homes at Springmoor? You enjoy the aforementioned benefits of choosing a lovely, cozy space for your NC retirement, plus all the benefits of a Continuing Care Retirement Community. Those benefits include a robust service package (no more chores!), vacation-style amenities and the peace of mind of a secure future.
If you're a believer in the benefits of "living small" but enjoying a big retirement lifestyle in Raleigh, the only thing to do is to visit Springmoor to see these homes for yourself. To request a personalized tour to see your favorite floor plan and get all your questions answered, simply click here or call 919-848-7080 today.