The saying "what you see is what you get" applies to many circumstances in life. However, when it comes to comparing 55+ communities in NC and Continuing Care Retirement Communities (CCRCs), the difference between the two retirement living models begs a closer look. Here are three reasons why a CCRC may be your best bet for carefree living.
1. Financial stability
Like many CCRCs, Springmoor is an entrance fee community. This means that you pay a one-time payment that gives you access to all of the community's services and amenities as well as a full continuum of healthcare. In addition, a monthly service fee covers dining, housekeeping, maintenance, scheduled transportation, fitness instruction, concierge services and security.
So, from healthcare and home maintenance to many daily living activities, your expenses remain largely consistent. And, unlike 55 plus communities in NC where on-site healthcare isn't available, a CCRC like Springmoor offers you convenient and quality healthcare that is covered for the most part in the one-time entrance fee.
2. On-site support
Some say CCRCs are the best present you can give your children or loved ones. It's this peace of mind that draws so many active adults to CCRCs. Although 55 plus communities in NC may offer the security of a gated community, a CCRC also does this and provides readily available assistance in so many ways.
For example, let's say your refrigerator stops working. At Springmoor, a new refrigerator is just a phone call away, so there's no need to call your adult children for an unexpected trip to the big box store. What if you twist your ankle while walking the dog? Physical therapy is just a stone's throw away at the Stewart Health Center—no need to call a neighbor or daughter for rides to and from your appointments.
And what if one spouse requires short-term or long-term care? At a CCRC, you can remain together on one campus—no need to commute to visit your partner or uproot your life with another household move that's not only costly, but also a hassle.
3. Social interaction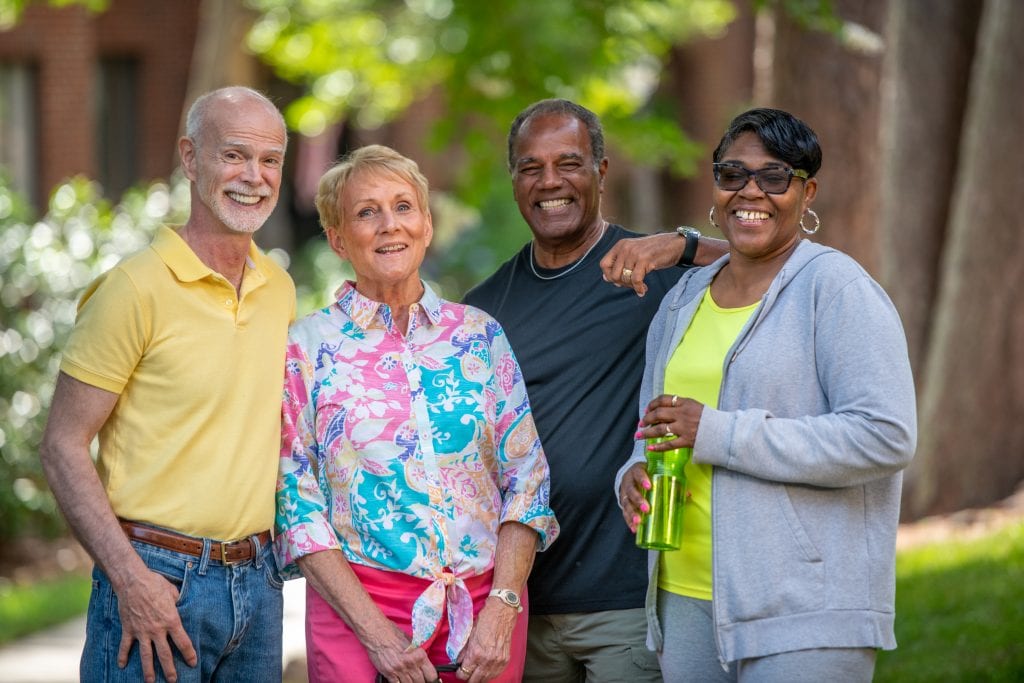 Research shows the importance of social interaction as we age. Although a 55 plus community may draw active adults of the same generation to one hamlet, the "sense of belonging" may end there. It's "every man (or woman) for himself" when it comes to social camaraderie.
At Springmoor, you have the opportunity to join your friends when you participate in the endless on-site and offsite activities. From exercise classes and golf outings to book clubs and resident committees, you have choices for social engagement. For example, at the "Springmoor Presents" series, you can join friends for an evening of musical performances, lectures or other styles of entertainment unlikely found at 55 plus communities in NC. Like a good party? Springmoor hosts galas twice a year where friends dine on sumptuous meals and enjoy a night of entertainment. In the end, the choice is yours. Although 55 plus communities in NC may offer active adults a "golf cart" community, CCRCs like Springmoor, deliver on three major fronts: (1) financial stability, (2) on-site support and (3) social interaction—a value that can't be beat. Are you interested in learning more? Click here to request a personal tour or call us today at 919-651-4844.