You've made the decision to move to a retirement community, and now you may have a host of questions—especially when it comes to all the options for independent living in Raleigh, NC. Fear not! Use this guide as you research and look for your next home.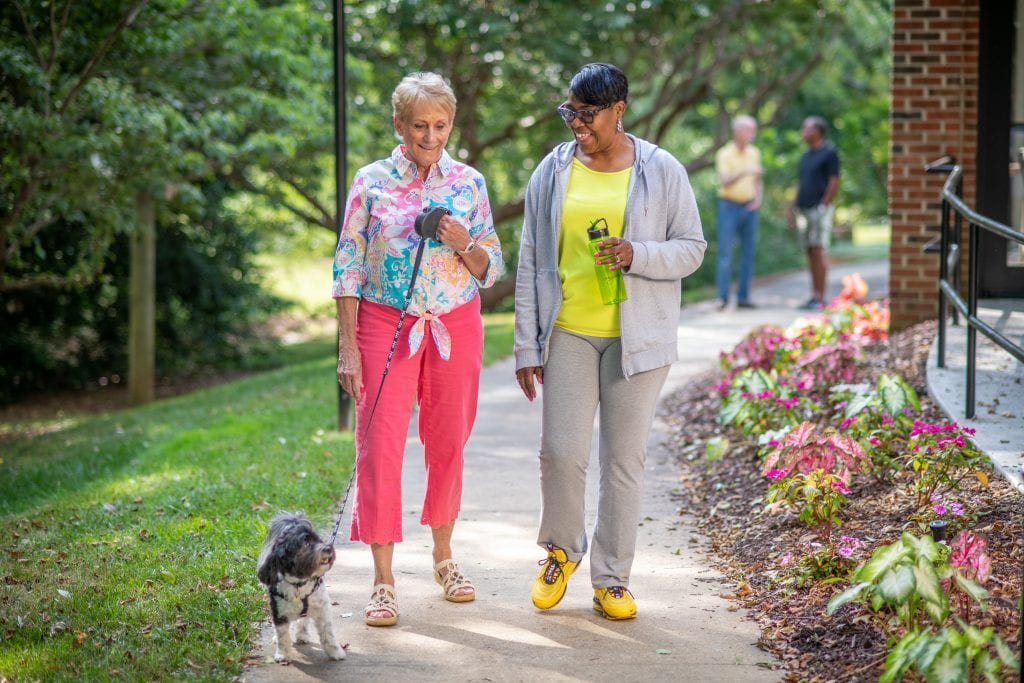 1. Location. Many independent living communities offer desirable campuses with scenic views, but most individuals and couples like you also want to be close to cultural attractions, restaurants, parks and educational institutions. When looking for independent living in Raleigh, NC, you'll want to make sure a trip to the mall or an evening at the symphony is just a short drive from campus.
2. Sense of community. Consider your search for a retirement community like looking for a new neighborhood. When it comes to independent living in Raleigh, NC, decide whether you prefer a small, close-knit campus or a larger community with opportunities to meet people from all walks of life. While touring various campuses, talk to residents to see if they like living in the community and ask them what activities they enjoy. The more questions you ask, the more likely you'll get a sense of how you will fit in.
3. Dining. George Bernard Shaw once said, "There is no love sincerer than the love of food." When visiting retirement communities, ask to stay for lunch or sample the cuisine. Also ask the following questions: How many meals are offered in the dining room? Are there different dining venues? Is seating open or assigned? Are guests or family members welcome to join you for meals?
4. Services and amenities. One reason you may be looking for independent living in Raleigh, NC, is to simplify your life. Services and amenities play a big role in making things easier and enhancing quality of life overall. Find out if housekeeping, home maintenance, transportation services and a 24/7 emergency response system are available to all community members. You'll also want to learn about the variety of on-campus and off-campus activities and whether the community features conveniences like a salon, chapel and fitness center.
5. Aesthetics. Since you're moving to a new community, you'll want to love where you live and that means a visual appreciation of the buildings, grounds and residences. Are the grounds well maintained and does the beauty draw you outdoors? Also, when touring a campus, look to see if the community is logically laid out and easy to navigate. Are there outside areas for jogging, biking and yoga?
6. Residences. From a one-bedroom apartment to a two-bedroom single family home, everyone has different needs. Ask about the variety of floor plans offered—and to what extent you can personalize your home, such as adding built-ins. If one is available, ask to see an empty apartment so you can visualize the space. Make sure to ask if there is a waitlist for residences.
7. Healthcare options. One of the distinct advantages of a Life Care Community is a continuum of healthcare, should you ever need it, and the peace of mind it brings. Inquire about whether the community offers rehabilitation, assisted living, memory care and an on-site nurse or physician.
8. Costs. There are many financial benefits to moving to a Life Care Community such as the combination of independent living coupled with a higher level of care on campus; however, make sure you learn about the entrance fee, monthly service fee and whether there's a second occupant fee. You know your budget best and what you can afford.
9. Engagement and wellness. Let's face it: you want to make the most of your "me" time. Learn about the community's clubs, on-site activities and outings offered. The community's array of programming will open up a world of new possibilities and introduce you to lifelong friends. You'll also want to tour the fitness center, game rooms or movie theater to determine whether the amenities meet your needs.
10. Staff interactions. The nature of the staff is a good indicator of the community's quality of service and care. As you walk around the campus, do you notice if employees know residents by name? Are they friendly, respectful and personable? In addition, ask about employee retention and staff qualifications—an important question when it comes to healthcare services.
When searching for independent living in Raleigh, NC, you'll find that Springmoor exceeds expectations. Known for its breathtaking, park-like campus, friendly community, and exceptional and caring staff, Springmoor sets the bar high. Go online to request a personal tour or call us today at 919-651-4844. And remember: your new home should make your heart sing!