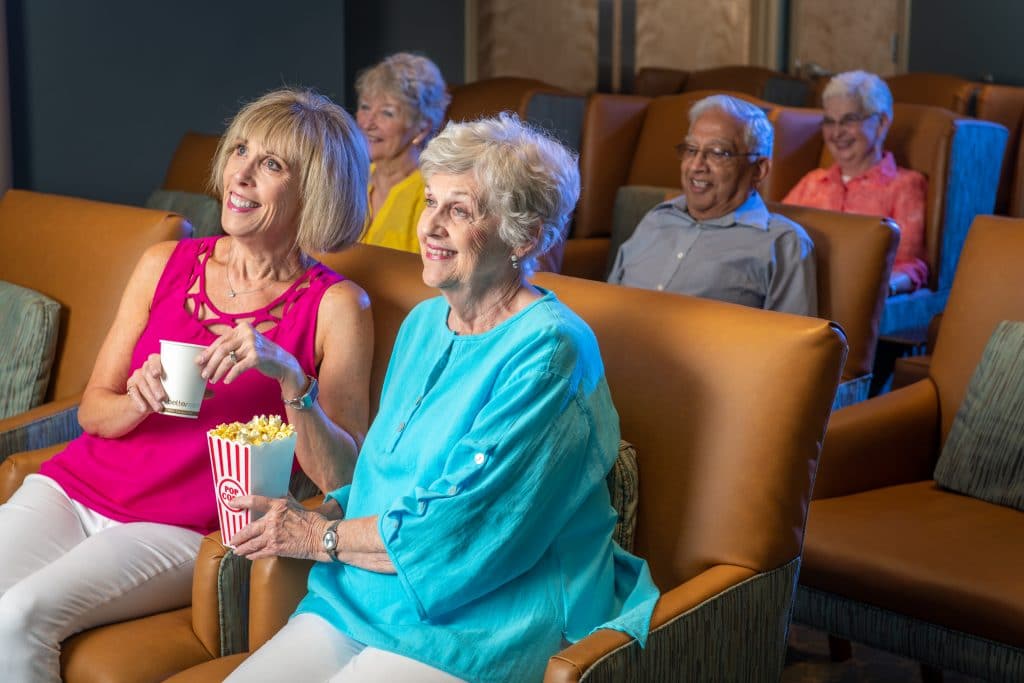 When you think about what your NC retirement could be like, you may not expect opportunities to enjoy regular performances from locally, regionally and even internationally known performers, speakers and acts. But if you choose Springmoor, those kinds of performances will be a regular occurrence – right on campus!
Springmoor hosts regular special events as part of its "Springmoor Presents" series as a major way to amplify and elevate expectations for what an NC retirement can be. While most of the performances are by musicians, many of the events also feature expert lecturers, theater actors and other styles of entertainment. Here are a few examples of performances that have graced the Springmoor Presents stage.
A multitude of magnificent musical acts
Nothing stirs the soul quite like live music. Springmoor understands this sentiment by featuring many musical performances as part of Springmoor Presents. Whether you're into jazz, classical, rock or pop, Springmoor brings it all to you with the goal of helping your NC retirement hit a high note. This is just a small sample of the musical acts that Springmoor has hosted in 2019:
Putting the "story" in "history"
With Springmoor's location in The Triangle near many renowned universities, everyone benefits from the local academic expertise on the rich history of the region and the nation. Springmoor Presents brings many historical and cultural experts to campus, including the nationally recognized and renowned historian Dr. Elliot Engel. Dr. Engel, who has visited Springmoor many times, recently presented the following stories and topics:
"Do Cry for Me: The Tragedy of Eva Perón"
"Cotton: The Humble History of a Fantastic Fabric"
"The Genius of Mark Twain"
"Henry Wadsworth Longfellow: American Poet & Mythmaker"
"The Incredible Hapsburg Empire"
And it's not just Dr. Engel who helps add fantastic stories to the NC retirement experience offered at Springmoor. The community has also recently featured lectures from experts on D-Day and the U.S. presidential history as well as autobiographical stories from residents, the Springmoor Life Writers.
Everything else to enhance your NC retirement
Springmoor Presents isn't just reserved for music and history, however. Throughout the year, you'll also get to see dancers, comedians, poets and more. Plus, the performance series typically includes special holiday and seasonal shows from regional groups to get everyone in the spirit.
And, if on the outside chance the Springmoor Presents catalog doesn't pique your interest, you'll enjoy boundless area attractions in and around Raleigh. These attractions include a wide variety of sports, from NCAA Division I (Duke, UNC, NC State, Wake Forest) and NHL hockey (Carolina Hurricanes) to minor league baseball (Durham Bulls) and more.
Springmoor is also close to the Duke Energy Center for the Performing Arts, Durham Performing Arts Center, PNC Arena, and North Carolina Museum of Art. Perhaps what's best is that Springmoor, with its transportation program, can get you to all of those places hassle-free.
If you're now considering the possibilities for your NC retirement, perhaps visiting us for a preview of a Springmoor Presents performance would make a good next step. Simply click here or call 917-651-4844 to arrange a personalized visit!