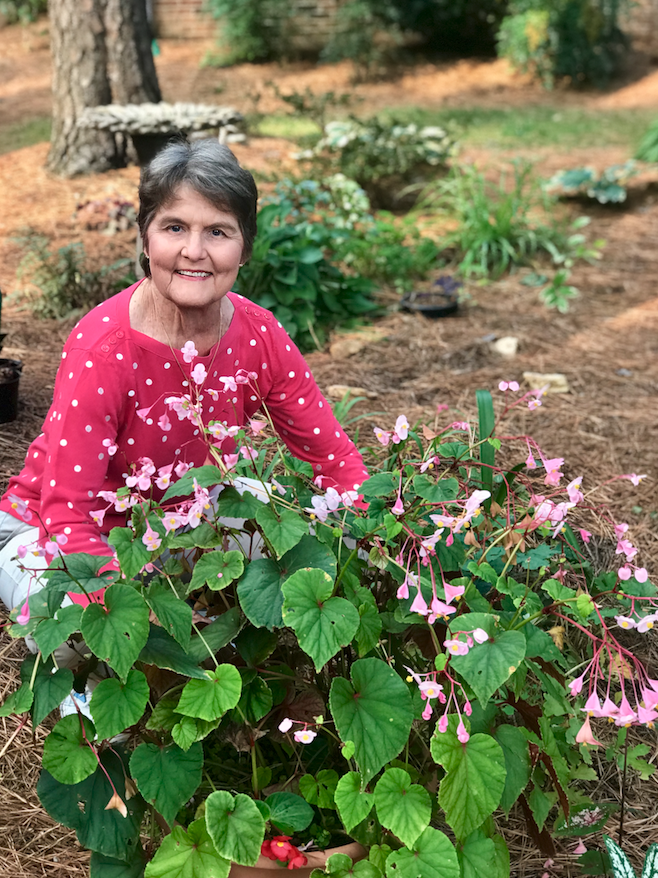 When she learned of several break-ins in her mother's neighborhood, Sally Neal began to worry about the safety and well-being of her mother, Mary. Sally, who lived in New Jersey at the time, discussed the situation with her sister, and the two realized that it would be best for Mary to move to a new place. After some searching and considering, Mary, who is a native of Raleigh, chose Springmoor as her new home and settled into a two-bedroom, two-bath villa.
Memories of exceptional care
Mary, who was 68 when she came to Springmoor, spent 12 happy years in its warm and caring community. She made lasting friendships, loved participating in the book club, gardened in her yard and attended water aerobics classes on a regular basis.
As the years passed, Sally moved back to North Carolina and visited her mom at Springmoor frequently. She recalled a time when Mary had fallen in her home in the middle of the night, and called Sally for help. Living an hour away, Sally suggested her mother call the front desk for immediate assistance and within minutes, a nurse at Springmoor called Sally to let her know that Mary was okay and that Sally could wait until the next day to come see her.
"Having a place like Springmoor is a true gift to adult children," Sally said.
When Mary's health needs changed, she made it clear that she had access to quality 24/7 medical care and had no intention of moving in with her children. She soon moved into Springmoor's Stewart Health Center, but her social life and friendships endured.
Retirement living for the next generation
Today, Sally is one of 29 other second-generation residents currently living at Springmoor. In fact, when Sally and her husband, John, began looking at retirement communities, they used Springmoor as the gold standard. With a mosaic of good memories from her mother's experience, it's little wonder why they chose the Raleigh community. "We looked at retirement communities in North Carolina and Florida, but none compared to Springmoor," Sally said.
Both natives of North Carolina, the couple liked the southern charm of Springmoor and its people, the beautiful surroundings and the security of home and healthcare for years to come. With John's desire to live in a single-family home, the couple selected a two-bedroom, two-bath cottage with a garage—a convenient place to store golf clubs, tennis gear and gardening equipment.
The perfect fit for an active life
John, an active 76-year-old, plays tennis and golf and walks six miles a day several times a week. With this lifestyle, he takes advantage of Springmoor's close proximity to nearby state parks and golf courses to add variety to his physical activities. At 70, Sally receives occasional treatments at the Outpatient Clinic of Stewart Health Center, but nothing deters her from her true love: gardening. As a master gardener, Sally's yard is a showcase of annuals and perennials. In fact, Springmoor residents ask Sally for advice on all aspects of horticulture.
When not gardening, Sally swims in the indoor pool, takes cardio, balance and tai chi classes and dabbles in a variety of art classes offered at Springmoor. As a Springmoor volunteer, Sally also transports residents from the Stewart Health Center to Springmoor's auditorium for regular performances.
Additionally, the couple takes advantage of the full schedule of weekly activities offered on and off campus. Recently, they joined 15 other residents on a pontoon cruise of Jordan Lake where they spotted osprey, herons and eagles.
Seize the moment
Early in their retirement years, Sally, her mother and John realized the advantages of moving to an active retirement community. The social engagement, the variety of residences, the endless amenities and the healthcare services available, if ever needed, all played a role in their decision to move to Springmoor.
This year, Springmoor celebrates its 35th anniversary. Generations of people like Sally place their trust in Springmoor to provide high-quality services, amenities and healthcare. Call us at 919-848-7080 or visit us online to request a personalized tour.