Most people like a party: the anticipation, the ambience, the food and drink, and a reason to dress up. Springmoor, known for its robust activities, hosts galas for members of the community twice per year—and in June, it did not disappoint. At the Latin-themed dinner and concert, guests wore brightly colored apparel and tropical attire for an evening of conversation, fine dining and entertainment.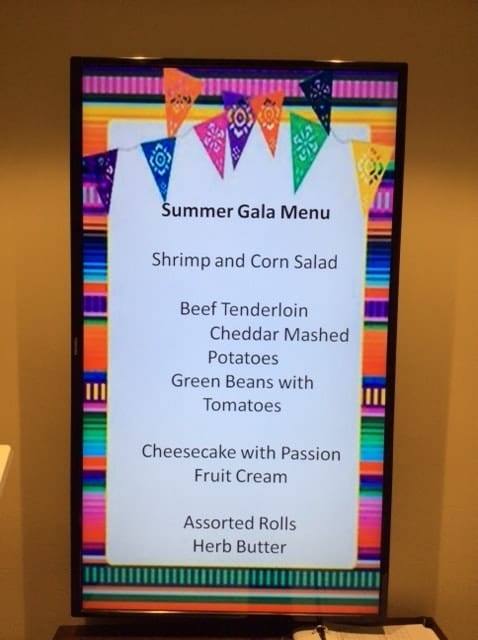 The stage is set
Louise C. learned about the summer gala in the Pathways E-newsletter before she moved to Springmoor. Just six weeks after she moved, a neighbor asked Louise to attend the event and she was thrilled. "There was so much conversation and anticipation for the event," Louise shared. On the day of the gala, Louise and other members of the community watched as the dining and great rooms were transformed into a tropical paradise.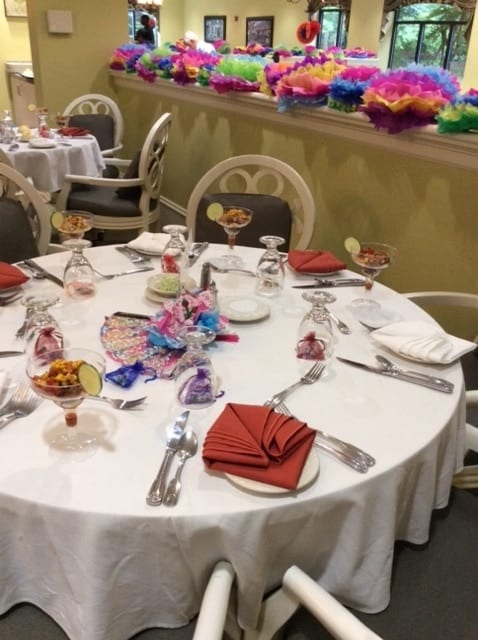 Charles and Carol Bryan happily accepted an invitation from their neighbor to join a table of 10 for the summer gala. Having moved to Springmoor in June 2018, the couple already attended three of Springmoor's galas so they eagerly anticipated another social fete. "It seemed so festive that we knew we wanted to go," Carol said.
An abundance of color
Carol's favorite part of the night was seeing what everyone wore. "There was such an array of outfits," Carol explained. Charles wore a bright yellow shirt while Carol sported colored jeans and a lively top. Known for his conservative and muted wardrobe, Carol selected Charles' shirt. "Carol is my color coordinator," Charles joked.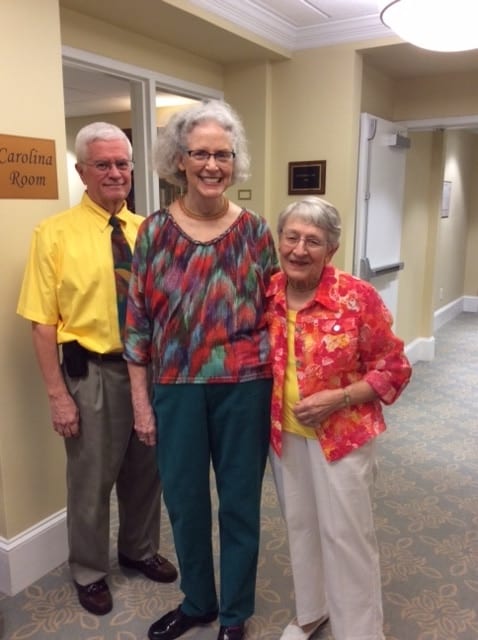 Wearing a flowered blouse and pants, Louise accessorized her dinner partners with Hawaiian leis. "I wanted to make our table look special," Louise said. The brightly colored leis complemented the freshly cut flowers that adorned each table.
What made the night even more special was the addition to the wait staff. Members of Springmoor's administrative team served wine and mingled with guests. "They know all of our names and are really interested in what we have to say," Louise said.
Although the summer gala was more of an informal affair, guests enjoyed fine dining that included a shrimp appetizer, a dinner choice of salmon or steak and cheesecake for dessert. Like every meal prepared for Springmoor residents, the delicious fare was created by Head Chef, Dennis Daly.
Cue the music
Following the dinner, the Afro-Latin musical ensemble, Alex Weiss and Different Drum, performed in the Springmoor auditorium. Concertgoers listened to rich, ethnic sounds of African and Latin American music combined with jazz standards. "The concert made the evening complete," Louise noted. She particularly enjoyed hearing and humming to Calypso songs originally performed by Harry Belafonte.

A warm community makes for lasting friendship
While the dinner and entertainment were special indeed, the true centerpiece of the evening was the camaraderie formed among Springmoor residents. Still relatively new to Springmoor, Carol and Charles appreciated the chance to mingle. "Springmoor is such a friendly place. We almost feel like we know everyone here," Carol said.
Louise agrees with Carol: "It was a good mixer. I'm beginning to put names and faces together." Just three months after her move to Springmoor, events like the summer gala have helped Louise form lasting friendships. She goes to lunch and dinner with her new friends and participates in regular games of Rummikub. "With all of Springmoor's activities, it's hard to fit everything in in one day," Louise shared.
Charles, Carol and Louise are happy with their decision to move to Springmoor. "There is so much available for whatever style and speed of life you want," Charles said. "Springmoor adds years to your life."
The summer gala is just one example of Springmoor's lively social scene. Known for its warm and welcoming community, Springmoor is the place where your choices for socializing and personal enrichment are endless. Call us today at 919-651-4844 to schedule a visit, or sign up for the Springmoor E-newsletter.