According to the Bureau of Labor Statistics, the labor force participation rate is expected to increase fastest for people ages 65 and older through 2024. Some people work during their retirement years for financial reasons, but others choose retirement careers as a source of intellectual interest and emotional health.
Two Springmoor residents—and career engineers—find that their retirement careers help them maintain a sense of purpose.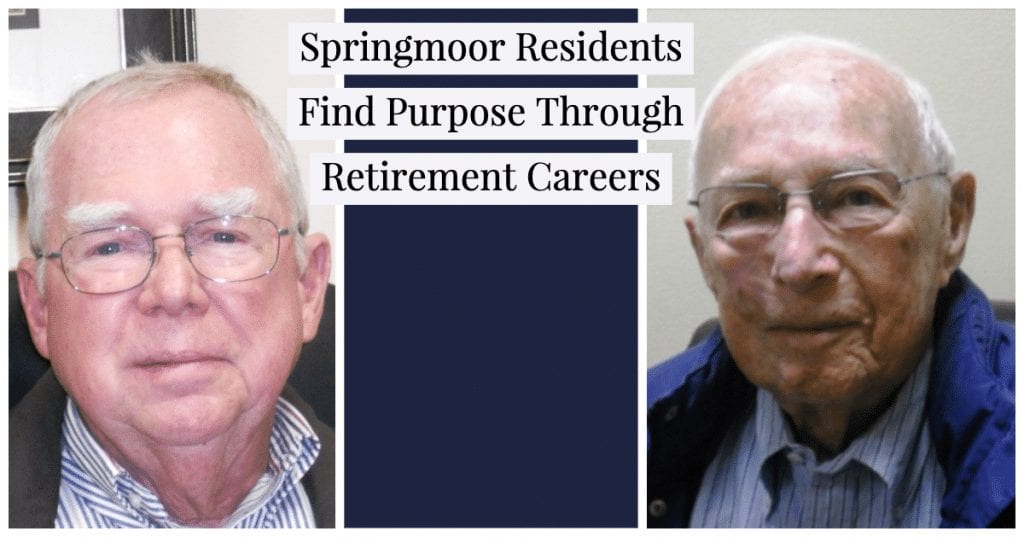 Carl Zorowski, Ph.D., and his wife, Louise, moved to Springmoor in 2017. A mechanical engineer, Carl began teaching at North Carolina State University in 1962. After retiring from the full-time faculty in 1997, Carl has continued as emeritus professor teaching graduate engineering distance education courses on campus. He has also written and published a number of monographs in engineering design. Carl has recently scaled back his teaching from full-semester courses to five-week sessions, so he can enjoy the lighter workload and spend more time with Louise and his friends at the community, while still making a difference.
David Waters and his wife moved to Springmoor in early 2018. With a degree in engineering physics from The Ohio State University and a master's degree in nuclear engineering from Carnegie Mellon University, David joined the workforce in 1963. He worked for Duke Energy Power Company in nuclear energy for 27 years, and now he's actively looking for part-time consulting work where he can work from home.
Many benefits of keeping your career going
Carl and David fully endorse a retirement career. While working during retirement, you can:
Stay busy and spend less money by filling your days with meaningful work. David admits he's a "doer." Not one for sleeping late or watching TV, he is currently writing his memoir, serving on Springmoor's endowment committee and acting as the chair of Springmoor's woodworking shop.
Ease into your retirement years and continue contributing. Research from the Harvard School of Public Health recommends that one should view retirement as a gradual process rather than an event. David's goal is to work until 80, and he hopes to find consulting work or technical writing assignments in the nuclear industry. "I have lots of experience and still want to contribute to the good of a company," David shared.
Carl values how his job keeps his brain active. "I get a lot of energy from my students, it's infectious." He also appreciates how his job keeps him in touch with modern technologies.

Remain more active and socially connected with coworkers and professional colleagues. "I didn't want to lose social contact with my associates, so I decided to teach part-time," Carl said. He also makes use of his on-campus office where he grades papers, prepares for class and meets with colleagues.
Benefit your bank account and your field.  Whether it's hundreds or thousands of dollars, you can use the funds earned from a retirement career to travel, supplement your hobbies or simply save. Both Carl and David also enjoy their retirement careers for the intellectual stimulation and the opportunity to continuously contribute to their professions.
Volunteer or find an "encore career" that provides meaning, channels your passion or gives back. While David seeks part-time professional work, he spends several days a week volunteering at a local hospital, and his wife, Pat, teaches a women's Bible study course at their church.
As baby boomers continue to retire, more institutional knowledge exits the workforce. Carl and David are doing their part to prevent this "brain drain," while enjoying the ability to work on their own terms.
To get a sense of the lifestyle of opportunity that living at Springmoor provides, whether it's through a retirement career or other endeavors, we invite you to download our information packet. Click here or call our friendly team at 919-651-4844 to request the info packet.