You're an active, social older adult, and when you consider the idea of moving to a continuing care retirement community (or CCRC) you may think, "No way, I'm not ready yet! I'll go to one of those places when I need to." However, many seniors with this mindset are actually doing themselves (and their families) a disservice.
Waiting until you're "ready" to move to a CCRC may mean that you're waiting until you don't have the option of deciding for yourself, such as after a fall or an accident that makes it no longer viable to stay in your house. If that happens, it also puts pressure on your loved ones to quickly find a place that can provide you the necessary care.
Meanwhile, you know that you want to continue to live independently, where you can continue enjoying your favorite hobbies, favorite meals and being with your favorite people. You also know that it's good to have a plan – and you like the idea of a secure future.
Fortunately, there is good news! At a CCRC, you can have the lifestyle you want today and invaluable peace of mind for tomorrow. Putting those advantages together truly makes the best time to move to a CCRC now.
A place to connect and thrive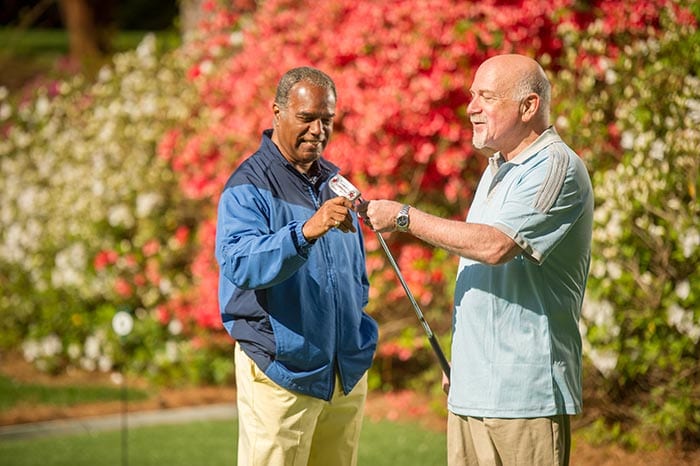 Even though you're healthy and active, by staying in your house, you may be missing out on meaningful opportunities for social interaction, wellness and volunteering – all things that can have a huge impact on your overall quality (and length) of life.
At CCRCs like Springmoor, your lifestyle can involve all of those elements and more. For example, our residents enjoy getting together for outings and events, making art, group fitness, continuing education opportunities and volunteering both near and far beyond Raleigh.
Perhaps the best part about this lifestyle is that you'll never have to worry about home maintenance, upkeep, repairs, yardwork or surprise expenses. Everything you need – and every amenity – is included in your monthly service fee. At a CCRC, you'll have time to do the things you love in a great setting.
Why you should care about Life Care
At CCRCs, there's an emphasis on "continuing care" for a reason. These communities have higher levels of care on-site, such as assisted living, memory care and skilled nursing, should the need arise in the future. This provides the peace of mind in knowing that you won't need to move again if your needs change.
Beyond that, Springmoor offers a Life Care contract, which adds financial peace of mind to the equation. By choosing Life Care, your monthly fees do not substantially increase if you require a higher level of care. This takes worry away from you and your loved ones, because everyone can take comfort in knowing that your needs will be met – for life.
Worth the wait(list)
Even if you don't move right now, it's still wise to explore the options at a CCRC because many communities, like Springmoor, do have a waitlist. By joining the waitlist, you reserve a spot in line for when your ideal residence becomes available and ensure that you won't have to determine your next move. Additionally, joining the waitlist will give you more time to prepare for the transition and handle tasks such as "rightsizing."
At Springmoor, joining the waitlist has several other valuable benefits that transcend the peace of mind in knowing that your future is secure. All waitlist members enjoy perks, such as access to special events, on-campus activities and invigorating amenities in our Pathways Wellness Center. With all these possibilities, you'll easily meet your future neighbors and feel at home within our welcoming community before you even move in.
Whether you want to move now or join a waitlist, the choice to secure your future at a CCRC is all yours ­– and we hope that you consider Springmoor in the search for your next step. We would gladly host you for a personalized visit and share a firsthand look at our park-like campus. To request a visit, simply click here or call our friendly team at 919-651-4844 today.