Making the most of an independent retirement lifestyle means having the freedom to go where you want to go and do what you want to do. One of Springmoor's most-used services is our courtesy transportation. Thanks to our friendly drivers, the transportation team can get you where you need to go, when you need to get there, without the hassle of driving or looking for parking!
While some of our independent living residents bring their own vehicles, some residents choose not to take on the additional cost of owning and maintaining a car, or simply no longer want to drive. No matter the preference, residents can take advantage of this seriously convenient service.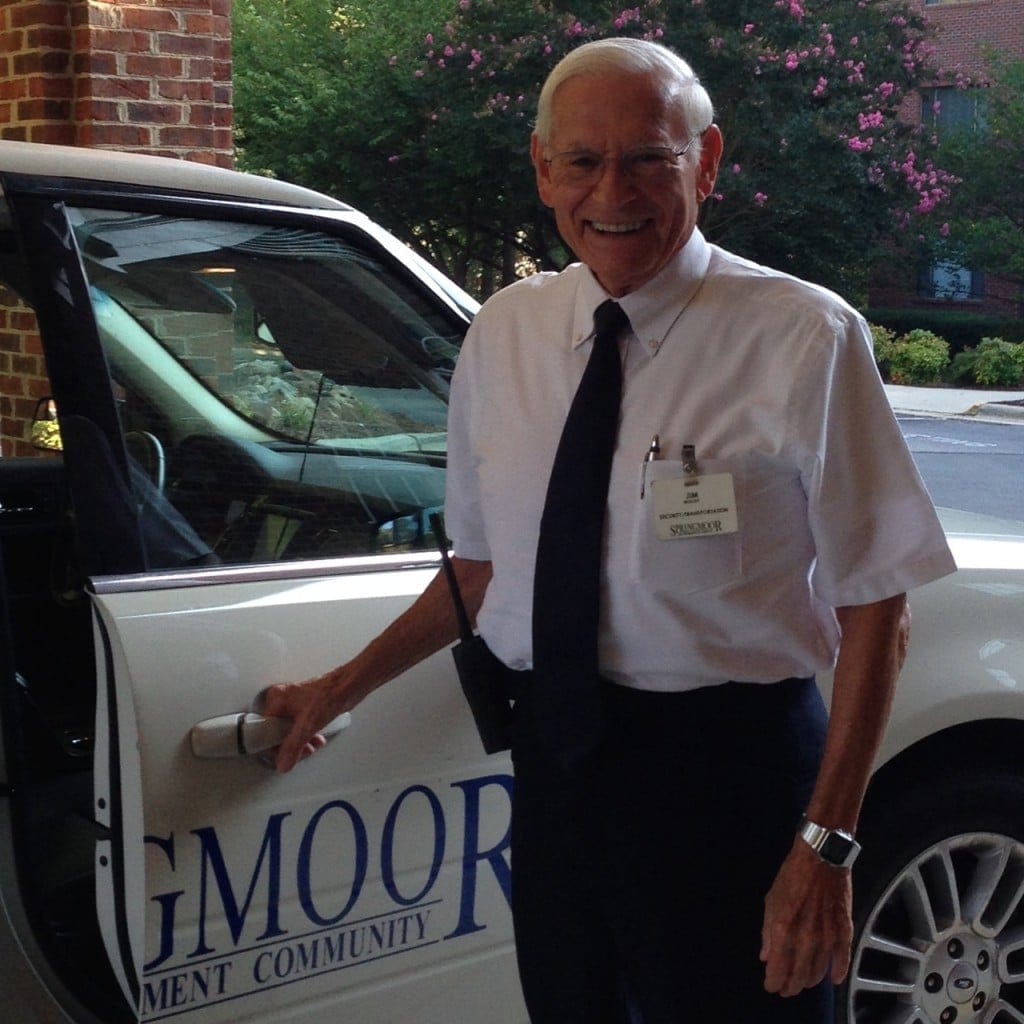 Whether you're going out to lunch, to a business meeting, a doctor's or other appointment, or on a Raleigh-area adventure, just schedule your trip and our drivers can take you there. Our campus cars and community bus transport residents around the Springmoor community and beyond.
Shopping
It doesn't matter if you're looking for a new blouse, or you just need to pick up a few grocery items. Each week, there is scheduled transportation to shopping and grocery stores in the area, like Harris Teeter, Lidl, Trader Joe's and Food Lion.
Several times a month, the bus also makes its way to shopping destinations like the Tanger Outlet malls in Smithfield and Mebane, so you can visit your favorite stores. The best parts? You won't have to find a place to park, and you won't have to lug all your new purchases around! You'll be picked up right at the door and helped with your bags.
Dinner and a Show
Some of the best trips in Raleigh include dining and entertainment, thanks to Raleigh's rich culture and vibrant metro area. Springmoor organizes regular trips to restaurants for lunches and dinners. It's the perfect opportunity to catch up with a friend or neighbor, while sampling some of the delicious dining options around the city. Visits to restaurants have included popular local spots such as Driftwood Southern Kitchen and Angus Barn.
The Springmoor bus also frequents entertainment options in Raleigh, such as the Raleigh Little Theatre, the Carolina Ballet, Durham Performing Arts Center and the North Carolina Symphony. Your calendar will certainly be filled year-round with great shows, plays and performances.
Day Trips and Local Attractions
Another benefit of the Springmoor bus is how it lets our residents take day trips and visit area attractions with their friends and neighbors. Whether the bus is traveling to a museum, to the zoo or the library, it's always sure to be an eventful day. Day trips in the past have included the Sylvan Heights Bird Park in Scotland Neck, Temple Theatre in Sanford and the National D-Day Memorial in Bedford, Virginia. Exciting trips to nearby attractions also include visiting NC State University and Holy Name of Jesus Cathedral.
Springmoor's transportation services are here to serve residents and help them continue to live their independent lifestyles. For more information on retirement living at Springmoor, give us a call at 919-651-4844, or visit us online here to request a free information packet.