"A good home must be made, not bought." – Joyce Maynard, novelist and journalist
One of the most fun parts about moving to a senior living community is transforming a blank slate into your new, modern home. Each part of your house (the layout, the colors, the floors, the kitchen, the furniture) comes together to create a quiet, peaceful and private place just for you. Springmoor offers many home customization options, and you can select and customize each aspect to your liking. When you move in, you'll have an efficient home that meets each of your wants and needs.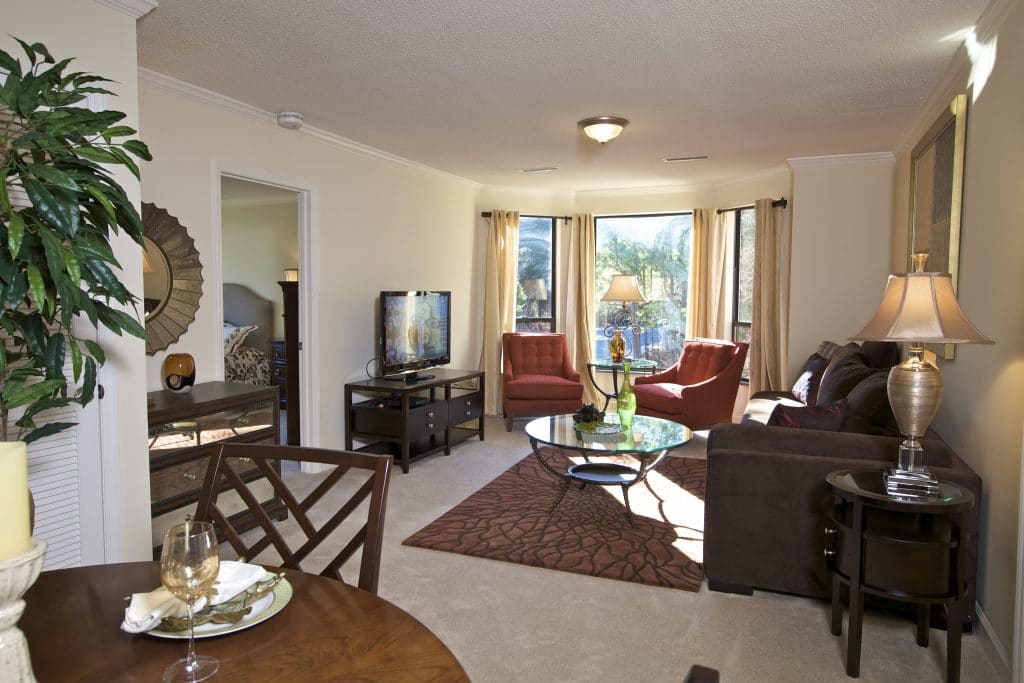 When you decide to move to Springmoor, you'll choose a floor plan that offers the right amount of space to suit your retirement lifestyle. After selecting all of the special features and adding any desired customizations, you'll bring your own furniture, belongings, decorations and anything else to make it truly feel like home. At the end of it all, you'll have a modern home in a premier senior living community in Raleigh, NC.
Picking a Residence
Springmoor offers 19 different floor plans that range in size from an alcove apartment to a two-bedroom single family home with a den and garage. This leaves room for a lot of possibilities! Think about your current needs and what kind of needs you may encounter in the future. What kind of home can fulfill them? How many bedrooms will you need? How much storage space will you require? All of these questions will help you determine the floor plan that best fits you and your needs.
Once you choose a residence and start planning your move, you'll meet with Springmoor's team of senior living advisors to select your customizations. You'll choose your preferred flooring, cabinets, appliances and paint colors to ensure that every room lives up to your expectations.
A Contemporary Kitchen
Many people like to start in the kitchen by selecting the cabinets and appliances. Residents can choose between cherry or maple cabinets and multiple stain colors. However, the choices don't end there. You'll also choose between two different style doors. The cabinets are finished off with quiet-close hinges and brushed nickel hardware for a modern touch. You can even add several upgrades, like pullout shelves and ceiling-high cabinets.
For the countertops, you'll have the option of several different colors and styles of quartz. More durable than marble, quartz countertops look just as beautiful and require much less maintenance. You won't have to worry about getting them resealed or the possibility of cracks or stains.
Lastly, you'll decide on the appliances. The refrigerator, stove and microwave come in black, white or stainless steel, any of which would make for a beautiful, contemporary kitchen.
Fabulous Flooring
When it comes to flooring, think about the lifestyle you want to have in retirement. Springmoor offers carpets in various colors and patterns. As an elegant-yet-durable option, you can also pick from several colors of luxury plank flooring. Finally, Springmoor offers an array of options for the stylish and easy-to-maintain vinyl tile, too.
Modern Updates and Customizations
The choices for a modern residence at Springmoor continue. You can opt for additional customizations before you move in, too. Want to add a fan in your bedroom or out on the patio? Need to add an electrical outlet where you intend to set up your office? Want to bring your favorite chandelier? Need to add a few more shelves to your walk-in closet? No problem! The staff at Springmoor can have all this completed before you move in.
No matter how you style and decorate your home, you'll have a modern residence to call home in a welcoming senior living community. If you prefer a more traditional, classic style, don't fret: we can still customize the perfect home for you.
Regardless of what your ideal home looks like, you'll have more time to enjoy it all, thanks to our community services, leaving you to take advantage of the exceptional campus amenities and Raleigh-area attractions.
For more information on residences at Springmoor, give us a call at 919-651-4844, or get in touch by clicking here.