Charlene Young and her husband, William, are an active, happy couple from South Carolina, and they've been residents of Springmoor for nearly two and a half years. When the Youngs decided—with the help of their family—that it was time to move to a retirement community, they looked for a Continuing Care Retirement Community (CCRC) in Raleigh, North Carolina, where they could be closer to family in the area. Also, because Charlene's sister-in-law had lived at Springmoor during her retirement, the community was high on their list of places to tour.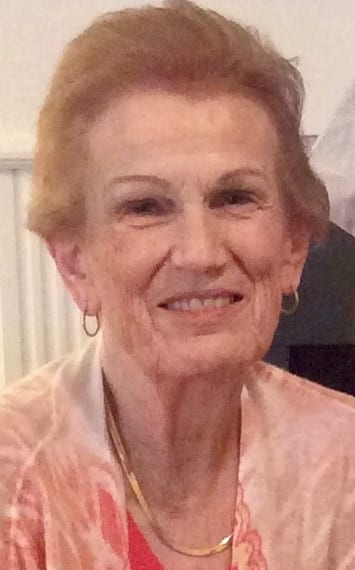 The couple was especially attracted to Springmoor's beautiful campus, and the warm welcome they received from residents and staff made a strong impression. Above all else, Charlene says the people at Springmoor are what make it the most special.
"The people are just wonderful," says Charlene. "The drivers, the waiters—everyone is so polite. They call you by name the first day you walk in the door."
Charlene spends her days in the Springmoor community serving on resident committees, taking trips with neighbors to Raleigh attractions, exercising, going to art classes, volunteering and much more. You certainly won't find her staying in one place for very long.
"I'm not one to sit around. I'm home for lunch and dinner, but other than that, I'm doing whatever activities that are around," she said.
An Active Start to the Day
Charlene starts most of her days with exercise. She stays fit by biking on her stationary bike for 13 miles every day. She also enjoys taking advantage of the walking trails around the beautifully landscaped campus. On Thursdays, she gets up extra early to exercise before going to the salon to get her hair done. Afterwards, she boards the Springmoor bus to go to a local grocery store, or she joins a resident art class on campus—but either way, she is always home before lunchtime.
"At the art classes, I've made lots of fun, different things. I've loved making necklaces, bowls and nightlights that I've given to family members. You can try things you haven't done before. And, if you have no talent, they won't tell you that!" she joked.
For lunch, Charlene sometimes makes her own, but on some afternoons she opts to either dine in or get carry out at the Bistro in the South Village. Fortunately, her meal plan allows her to enjoy a prepared meal when she just doesn't feel like cooking.
"I've cooked so much all my life, I just don't want to eat my food anymore!" she cracked.
Charlene and William are especially appreciative of the transportation services available to residents. Whether they're traveling across campus or across town, a car or bus can transport them. Because the two aren't originally from Raleigh, they're not as familiar with the surrounding area and don't have immediate knowledge of how to navigate within the city. However, with the help of Springmoor drivers, it's one less thing for them to worry about. They can easily get to doctor's appointments, local attractions, shopping, dining and more, all without having to think about transportation.
Serving Springmoor and Beyond
A typical afternoon for Charlene usually consists of attending a resident committee meeting for one of the two committees she chose. As part of both the fitness and fine arts committees, she volunteers each week for both causes. Each resident committee works closely with Springmoor staff to plan and organize events, activities and initiatives for the community.
On the fitness committee, Charlene works with the Springmoor Fitness Director to plan and implement activities like group walks, opportunities to get immunizations and ways to help residents in supportive living. On the fine arts committee, Charlene has a say in which art museums or attractions will be visited throughout the year. William also volunteers by serving on the health committee, where he works with staff and residents to create opportunities to learn more and improve resident health year-round.
Going beyond serving the Springmoor community, Charlene also enjoys volunteering for global causes. One of her favorite causes is Rise Against Hunger, a worldwide hunger relief organization that raises money and delivers meals to areas of the world in need. Each year, dozens of staff and residents gather to assemble and package thousands of meals for the organization to deliver to hungry people around the globe.
A Life of Fulfillment
By combining her love of fitness, the arts and volunteering, Charlene lives an active, fulfilling life at Springmoor. She contributes to her community through outlets she's especially passionate about and knows that she's making a difference.
"Nobody wants to feel like they can't contribute. By being on committees and volunteering, you're still part of things in this little town. You feel good about it. It's a happy place," says Charlene. "I wake up in the morning with a smile and go to bed with a smile. It's easy to smile here."
For more information about life at Springmoor, give us a call at 919-848-7080, or visit us online to request your free information kit. We look forward to hearing from you!