With its Raleigh locale, Springmoor is nestled in one of the more economically vibrant areas of the U.S. As part of the famous Research Triangle, Raleigh has attracted people from across the country to study at the area's outstanding universities (e.g., Duke, UNC Chapel Hill, NC State) or work for cutting-edge firms such as Red Hat.
With a plethora of seniors retiring in Raleigh, the region's retirement virtues have prompted recognition from a variety of outlets.
Bankrate.com just recently rated North Carolina as the sixth-best state for retirement. The site evaluated states in seven different characteristics and gave North Carolina especially good scores in cost of living, weather, taxes and well-being.
WalletHub.com puts Raleigh in its top third of the 180 cities listed as retirement destinations, giving it a particularly good mark in its healthcare ranking. That category incorporated a variety of the region's healthcare features, including the number of doctors, gerontologists, nurses and care facilities per capita, as well as the quality of its public hospital system and the life expectancy of its seniors.
The Milken Institute similarly rated Raleigh as one of the better cities for successful aging in its recent ranking of America's 100 largest metropolitan areas.
TopRetirements.com took a look at why North Carolina has been surging in popularity as a retirement destination in recent decades as compared to the traditional choice of Florida. Although both states boast an array of gorgeous beaches, the Blue Ridge mountains give North Carolina the edge in scenic variety. The summers are a bit milder than Florida's, and the diverse economy gives North Carolina something of a 'cool' factor for seniors looking for richer cultural experiences.
While the winters in Raleigh are brisker than what you get along the Gulf, daytime highs rarely dip below freezing, making the Carolina climate a refreshing relief from the occasionally brutal cold spells experienced in the Northeast.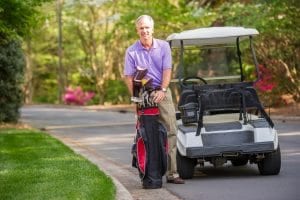 The mild climate also means residents can enjoy their favorite outdoors activity for most of the year. Residents can bike or hike on the area's 180 miles of greenways, or they can go fishing at Falls Lake. Golfers appreciate Raleigh's 19 different golf courses, with an additional 23 courses less than 20 miles away. (According to Golflink.com, the public 71-par, 18-hole Lonnie Poole Golf Course at NC State University is the longest of these at 7,358 yards.)
Raleigh is also a key hub for the region's cultural life.
"Raleigh, NC, is often dubbed the 'Smithsonian of the South,' based on an abundance of high-quality, free museums, historic attractions and educational institutions," according to VisitRaleigh.com.
The many museums and galleries — including the North Carolina Museum of Natural Sciences, the North Carolina Museum of History and the North Carolina Museum of Art — appeal to a wide range of interests. Additionally, a half dozen local venues (including the top-rated Durham Performing Arts Center) host theatrical productions to entertain audiences with dramatic intrigue.
With all these area advantages, it's little wonder that so many seniors are retiring in Raleigh. And Springmoor is the perfect landing spot for those looking for exceptional value and an independent and secure retirement lifestyle.
To find out more about the benefits of living at Springmoor, click here to contact us or call us today at 919-651-4844!