Many of us plan to travel when we retire, and often we are focused on exotic locations that require planes, trains and automobiles to get there. Although those kinds of trips are always wonderful adventures, Raleigh retirement communities offer access to the experiences you seek when you travel – art, food, history, culture – in a warm, friendly city (with easy access to planes, trains and automobiles for new adventures).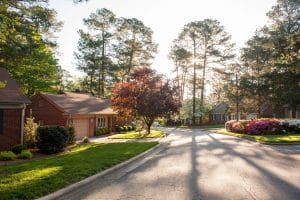 Here are 10 signs that Raleigh retirement communities might be right for you:
1) Lower-than-average cost of living
Cost of living is always a factor when looking at retirement. One of the really appealing things about Raleigh and North Carolina as a whole is how far your retirement will go without sacrificing quality. In Raleigh, the cost of living is lower than average, but you don't have to give up the lifestyle or amenities you want. Raleigh is a major metropolitan area and a city with top-rated restaurants and shopping areas; it just doesn't cost as much to enjoy your retirement here.
2) Local art abounds
Raleigh is known for its arts scene including the North Carolina Museum of Art, CAM Raleigh, the Carolina Ballet, the Durham Performing Arts Center and the North Carolina Theater, to name a few. Beyond Raleigh, a variety of cultural experiences are available including the Cherokee Heritage Trails, Blue Ridge Music Trails and African American Music Trails of North Carolina.
3) Social Security tax exemption/no estate tax
This is a simple reason to consider Raleigh –the state of North Carolina doesn't tax Social Security. Another benefit to retiring in the area is no state level estate/death tax is incurred. Protect your assets and spend less time worrying about asset transfer to your family.
4) Mountains
There are wonderful mountains near Raleigh. A day trip is always an option, or you can travel farther and enjoy other cities and mountainous areas. Raleigh's proximity to major roads coupled with its proximity to the mountains makes this an easy decision for someone that loves the mountains. The usually mild winters in the Raleigh area don't mean that you won't get to see the leaves change—it's still a spectacular view that adds to the appeal of North Carolina.
5) The Outer Banks
North Carolina has roughly 322 miles of coastline. Raleigh is situated in the perfect location to visit any of those 322 miles. Add another 12,009 miles of estuarine coastline and you have a sportsman's or an outdoor enthusiast's dream location.
6) Sports
Basketball is THE sport – but there are others as well. People in the Raleigh-Durham area take their collegiate sports seriously, and you'll find friendship whether you're yelling "Go Heels!" or "Go Duke!"
7) Food and wine
Raleigh has a multitude of top-rated restaurants. If food and wine are your passion, Raleigh has plenty to offer! As expected, the area offers the culinary diversity found in all major metropolitan areas. You won't just find the staples of southern comfort food; you can enjoy food crafted by James Beard Award winners, with a variety of cuisines represented in Raleigh and Durham.
8) RDU Airport
The Raleigh-Durham International Airport is just big enough to provide you with a gateway to the world for your travel plans, yet still small enough and has easy parking.
9) Top-rated Golf Courses
If golf is your thing, the area around Raleigh is loaded with top-notch challenging golf courses. Not only are there multiple courses in the Raleigh area, but also courses just a short drive away that will challenge even the pro golfer in you.
10) Medical
Although no one wants to think about the medical care that can be associated with aging, it is an important consideration. Raleigh is in the Research Triangle, which is an area full of biotech companies and top-notch, university-connected medical centers and hospitals. The care you may need in the future is right here when you need it.
Give us a call at 919-651-4844 (or click here to get in touch), and let us show you why Springmoor is one of the top Raleigh retirement communities!