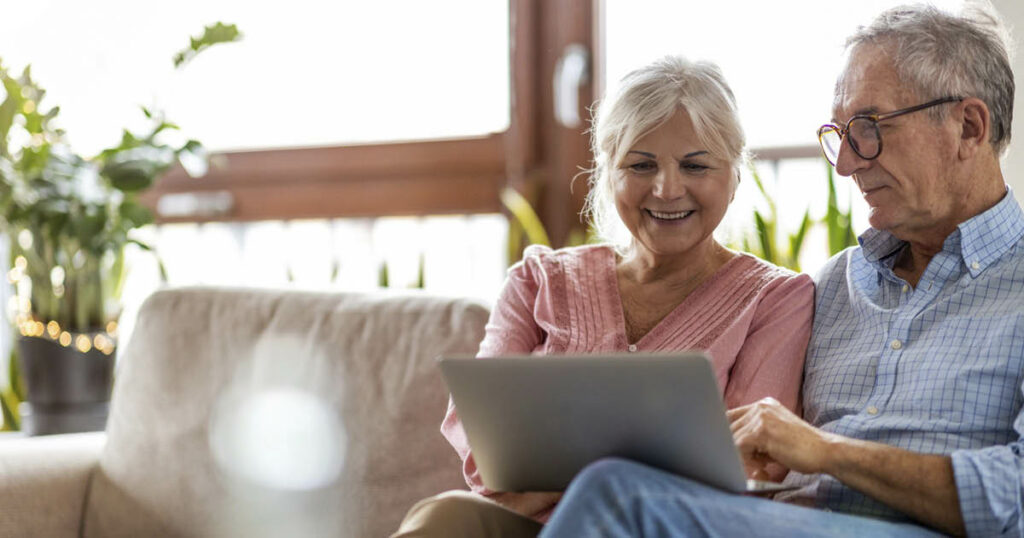 Tech usage among seniors continues to increase rapidly, and Springmoor is keeping pace. The new and improved Touchtown Pathways Resident Portal has been a part of community life at Springmoor since January 2022. The outpouring of positive feedback from residents and staff the IT Department has received indicates how much the community has benefited from the portal.
"Technology can be intimidating to some at first, but the portal helps ease all types of users into its interface and provides information right at your fingertips," says Daniel Sekeras, our Director of Information Technology. "We encourage all residents who haven't yet to give it a try, so they can see how useful it can be to their daily lives."
"Before deciding on our new resident portal, we went through a rigorous identification process," adds Beth Holden, Director of Sales & Marketing. This careful planning has paid off. Residents and staff alike report the portal is easy to use. The staff appreciates the ability to communicate quickly with residents and keep the information they provide accurate and complete.
The portal allows members of the community to access a wide range of Springmoor information from the device of their choice. Everything from important updates and memos from Executive Director Brandon Hair to the daily dining menus is available with the touch of a finger.
"Technology continues to be a hot topic for our residents," Brandon says. "Our portal allows them to stay up to date regarding the latest community announcements and happenings."
Here are just some of the categories of information housed on the portal:
Messages (real-time information from staff to residents).
Events information (you can register for events, check the attendee list, and cancel your registration directly in the portal).
Dining Service daily menus.
Dining venue information and printable menus.
Documents such as memos and handbooks.
Resident directory and staff directory.
New residents (biographies and contact information).
In Memoriam.
Maintenance work requests (you can submit and keep track of your requests).
Newsletters (The Resident Memorandum and The Springmoor Herald).
Information from the Resident Association Committees.
Community photos and videos (Resident Association meetings, fitness programs, Vespers, and more).
Forms (housekeeping, plan for absence, and transportation request forms).
Health and Fitness Department updates and sign-ups for classes, events, and activities.
Stewart Health Center renovation updates.
Residents can download the app version of the portal on their Android or Apple smart device by visiting their app store and searching for "Touchtown Community Apps." Please note that an app version is not available on Windows computers.
Tips for Staying Safe Online
More and more, older adults are enhancing their lives in a wide variety of ways through the use of technology. Whether your device of choice is a tablet, laptop, desktop computer, or smartphone, it's critical to follow best practices regarding keeping yourself and your information safe online.
The Springmoor IT Department prioritizes keeping staff and residents informed about cybersecurity. We encourage you to continue to stay vigilant when checking email and browsing the web and offer the following reminders:
Avoiding scams: A scammer is a person who lies to you to get you to give up your money or personal information. One of the best ways to stop scams is to share information with others in your community. People from every generation can benefit from discussing cybersecurity news, enabling online privacy settings, and avoiding calls and emails from unknown users.
Being aware of the following common scams can help you avoid them:
Grandparent scam: Someone claiming to be your grandchild calls saying they're in trouble and need money to be bailed out of jail or for another urgent reason. If you're taken in and wire money to the scammer, a subsequent caller may pretend to be a police or corrections officer and instruct you to send more money.
You can protect yourself by never offering any information to an unverified caller. For example, if they say, "Grandma, do you know who this is?" simply say no. Do NOT suggest the name of a grandchild. The scammer will simply confirm that this is indeed "John" and use this knowledge to continue to reel you in.
If you have any doubt regarding the identity of a caller, ask them a question only a real grandchild would know. Examples include: "What did I give you for your birthday?" or "What's my dog's name?"
Hang up and call the parents or a sibling of the caller to verify their story. You should never wire money under uncertain conditions because it is usually impossible to trace or recover.
Technical assistance scam: This is one of the most common scams affecting older adults. You receive a phone call or get a computer pop-up that seems to be from a well-known company (and may feature their logo). The caller or pop-up indicates that your computer is experiencing a problem such as a virus and that you must download software or provide information about your computer to fix the issue.
If this happens to you, STOP! Never click on links an unknown person provides to you or give out any personal info to someone you don't know—especially if they contacted you. If you click the scammer's link, you may be downloading malware onto your computer that allows them to access personal information, such as your passwords and bank account numbers.
Lottery scam: Who at some point hasn't dreamed of winning the lottery? Unfortunately, as we all know, if it sounds too good to be true, it probably is.
Remember, you can't win a contest you didn't enter, and you can't win a lottery held in a foreign country. A lottery scammer will often say you need to pay processing fees or taxes to claim your prize. NEVER give your banking information to someone who contacts you. You should also never have to pay a fee to win a prize.
Talking with your friends and family about these and other common scams can help keep the people you care about safe from cybercriminals.
Bluetooth safety: You can use Bluetooth safely if you're aware of common attack methods, monitor device settings, and avoid sharing sensitive data. When using Bluetooth, remember the following tips:
Don't allow public sharing.
Never share sensitive information.
Keep your device updated.
Make sure your device is not discoverable.
Turn off Bluetooth when it's not in use.
If you're having a problem with your computer, take it to a reputable repair shop for assistance. Residents can also reach out to the members of the Resident Association's Technology and Media Committee for support with our portal and help with many broader technology issues. In addition, our IT Director provides all newcomers with contact information for independent contractors who specialize in helping seniors with their devices and network.
Plan your visit to our campus today!
It takes a visit to understand what a special place Springmoor is. Like many CCRCs (Continuing Care Retirement Communities), we are an entrance fee community. After you pay this one-time fee, you have complete access to all of our services, facilities, and amenities like our portal, in-house TV stations, and business center, as well as a full continuum of healthcare (and much more!). We offer guaranteed residency for life. Your monthly service package gives you maintenance-free living and predictability in your ongoing expenses.

Contact us today at 919-848-7080 to find out more about the wide range of exceptional activities we offer every day so that residents can live their best lives. Our friendly team is happy to answer questions about Springmoor's amenities and what's included in your monthly service package. You can also order a free information packet. We look forward to meeting you soon!