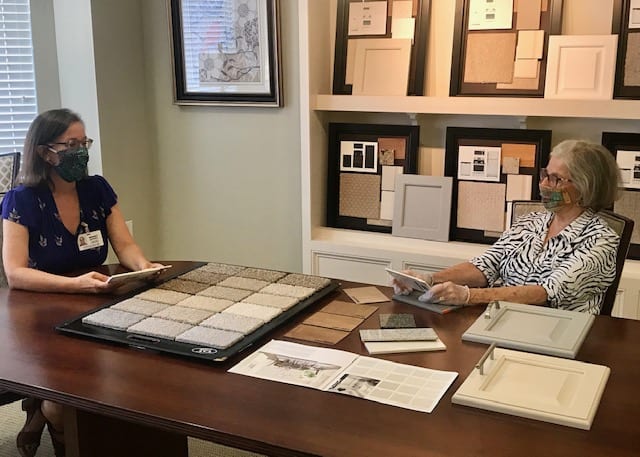 If you're like most of us, moving tops your list of stressful life events. You're dealing with packing up your belongings, additional expenses, and general disruption to your daily life. But moving can also be an exciting adventure that facilitates a happier, more secure lifestyle.
At Springmoor, we walk you through the entire move-in process to help make it as easy and enjoyable as possible. Our dedicated team facilitates the logistics of your move and provides you with the support we all need when making a major life transition. You can rest assured that our friendly community will welcome you to your new home and help you settle in.
You can worry less and enjoy this exciting life change more when you know the steps of the process. We've compiled the list of FAQs below so that you have all the details regarding what to expect.
Can you give me a brief overview of the move-in process at Springmoor?
After you sign the paperwork securing the new home you've chosen, you have four months to complete your move.
Our Move-In Coordinator meets with you to help you select your flooring, paint colors, and more.
The Coordinator facilitates a meet-and-greet with Springmoor's clinic nurse.
Our skilled contractors complete the refurbishment of your new home.
Springmoor's dedicated housekeeping staff completes a post-construction deep clean.
The Coordinator performs a thorough final inspection of your new home.
The Coordinator provides you with your new resident orientation.
On your move-in day, the Coordinator places a welcome basket in your new home and members of our volunteer Welcome Committee reach out.
Will one dedicated person assist me with my move-in?
Yes! Our Move-In Coordinator, Wendy Burgess, serves as your main point of contact throughout our seamless move-in process. She assists you with everything related to your move-in: helping you with your refurbishment selections, providing your orientation, and answering any questions you have about your upcoming move.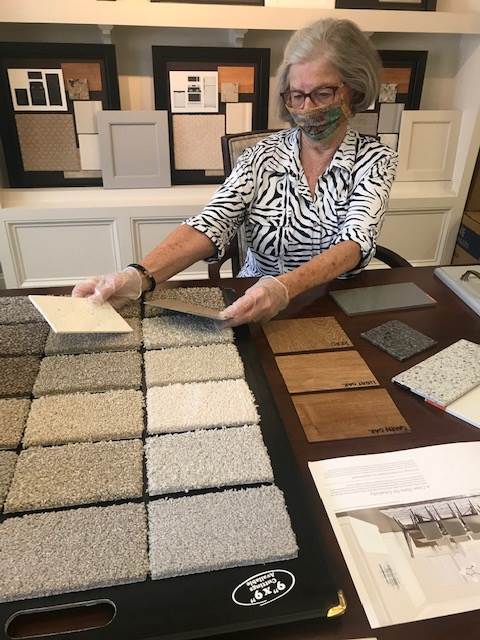 Wendy is also your liaison to the maintenance department, housekeeping, the health clinic, and other staff and service providers at Springmoor. She says, "We like to help people with the entire transition. I refer them to other resources they may need, such as folks who can help with downsizing, moving companies, and full-service move managers or senior move-in specialists."
What does the refurbishment process entail?
During your refurbishment meeting, Wendy reviews your options and helps you make all necessary selections for paint colors, flooring, cabinets, countertops, appliances, and window treatments. "There's something for everyone," says Wendy. "We provide a range of choices but don't overwhelm you with options."
If you need help with your selections, Wendy shares her expertise: "For example, if someone's new residence has a bathroom without a lot of natural light, I'll suggest they stay within a certain range on the color wheel." Wendy records your choices, and you have a two-week period in which you can make changes.
What safety precautions are you taking during the pandemic?
Precautions specific to the refurbishment meeting include the following:
1 We take your temperature before the meeting and ask you to fill out a brief screening questionnaire regarding any symptoms or potential exposure to the virus.
We limit the attendees at this meeting to the individual or couple moving in, and all participants wear masks and practice social distancing.
The Move-In Coordinator guides you through an efficient selection process that usually requires less than an hour, including reviewing paint chips and product samples.
Between meetings, we sanitize all materials and surfaces.
We provide a hand sanitizing station in the meeting room.
How does the process of making my selections differ if I'm moving to Springmoor from outside the Triangle area?
Wendy takes you through the same selection process using photos and video. Sometimes a local family member helps out by visiting Springmoor to take pictures or measurements.
How does the new resident orientation meeting work?
To help keep everyone safe during the pandemic, Wendy provides your orientation by phone a few weeks before you move in. Prior to this meeting, she mails you a new resident guide that covers all the logistics of your move and your first month at Springmoor. She reviews the guide page by page with you over the phone and answers any questions you may have.
What is covered in the new resident guide?

Wendy refers to this guide as "the Reader's Digest version of Springmoor procedures and logistics." Examples of items covered are: your meal card and dining services; how to handle your trash and recycling; Springmoor's on-site outpatient clinic; how to schedule transportation to a doctor's appointment; who you should contact if you have a question about your bill; how the on-campus mail system works; displaying your parking sticker; and details regarding your phone and internet service.
How has the pandemic changed the way you handle the refurbishment and move-in process?
We screen all subcontractors daily before they enter the community. All wear masks both while working inside the residences and moving about the campus. After re-painting, the installation of new flooring, and other aspects of refurbishment are complete, a team of two to three housekeepers wears masks while providing a final scouring of your new home.
Are new residents required to quarantine for 14 days due to COVID-19?
We strongly encourage new residents to be tested for the coronavirus three to five days prior to moving to Springmoor. If you receive a negative test result, there's no need to quarantine. If you don't want to be tested, you can instead choose to quarantine for 14 days after moving to the community.
Contact the friendly staff at Springmoor online or at 919-848-7080 to find out more about how you can become part of our caring, active senior retirement community.