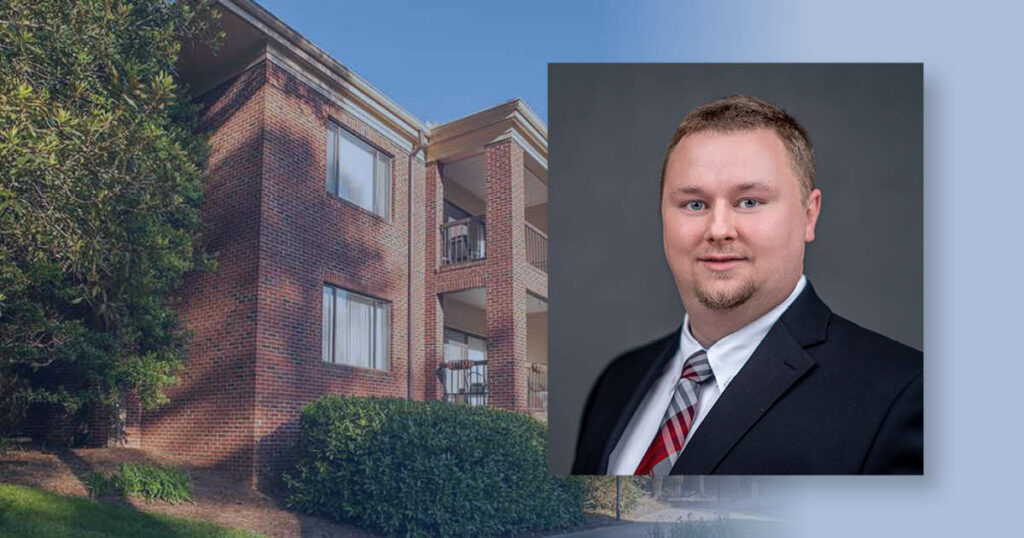 Daniel Sekeras' interest in computers started early in life. "I used to take computers apart when I was younger and 'Frankenstein' them," he says. He would add components to change or increase their functionality.
Daniel's path to becoming our IT Director is an interesting one. Like many of our staff, he has a long tenure at Springmoor. In 2008, he began his career at the community as a lunch and dinner cook, and he then transitioned to making breakfast and working in our Garden Café.
Having completed coursework in computer science and information technology, he was being pulled into IT duties part time by August 2014. "This was the beginning of my half-and-half period. One day I'd be in khakis, and the next day I'd be cooking," he says with a smile.
In addition to supporting the holistic needs of each staff person, the administration at Springmoor prioritizes promoting from within. On Christmas day of 2015, Daniel left professional cooking behind for a full-time career in IT. "I felt like I was leaving a part of myself, but of course I still cook at home," he says.
Working at a retirement community is a good fit for Daniel for numerous reasons. He was close to his own grandparents, particularly one of his grandmothers. She sang to him in Slovak when he was a little boy. Her mother and father were from Czechoslovakia, and he loved the traditional dishes she made, such as cabbage and dumplings.
"Being on staff at a retirement community is almost like having hundreds of grandparents," Daniel says. "To be able to get to know the residents in the course of my work is priceless."
No such thing as a typical day
Daniel doesn't like to be idle and enjoys the fast-paced nature of IT work. He also emphasizes that he likes keeping things organized, a skill that's central to his current role. "The standards at retirement communities are very high in all areas," he says.
Daniel enjoys the variety in his role as IT Director. "Every day is different, and there is no normal day," he says. "You have to keep a level head."
After arriving early, he responds to emails and assigns work orders to himself. He also checks the phone system for voicemails. At 8:15 am, he attends Executive Director Brandon Hair's daily stand-up meeting for senior staff.
Some days are heavy on meetings and phone calls, whereas others are packed with project work. At lunchtime, he takes a walk around campus with a couple of other staff members.
Work orders Daniel addresses routinely include helping other staff with issues related to their mouse, keyboard, or other aspects of their hardware. If a staff member needs to do more remote work, he may issue them a laptop.
Of course he's responsible for all software and network issues as well. Daniel sets up each new Springmoor employee with their user account information, including logins.
When asked about his favorite parts of his job, Daniel says he enjoys the people he works with, both staff and residents. "The people are the driving factor in terms of what makes Springmoor a great place to work," he says.
Cooking and computers have a lot in common—"It's all about problem-solving"
"Cooking and IT correlate more than people think," says Daniel. "I love both. Each can have a high stress level, and you go by documentation when doing them. The two careers can both be creative, just in different ways."
He continues, "IT and cooking may seem like an odd combo, but if you really think about it, it's not." Daniel explains how some of the same skills are used: "When cooking at a retirement community, obviously you're following a recipe. You're keeping nutritional value firmly in mind and you have to be aware of potential allergens."
The guidelines and policies Daniel follows when working in IT are somewhat analogous to following a recipe. "There are reasons for everything you do," he says. Like other organizations, Springmoor follows specific procedures to ensure that all processes are secure, and there are structured approaches to common issues.
Because of his cooking expertise, Daniel was recently included in a "taste testing" at Springmoor. Along with Phillip Haubenreisser, the Controller, and Beth Holden, Director of Sales and Marketing, he joined a small group of residents for a marketing luncheon to try out new recipes. They tasted appetizers, entrées, salads, and desserts and offered comments and suggestions on each.
The ever-changing technology needs of residents
Daniel comments that residents' tech needs continue to change and evolve. "Our newer residents tend to be increasingly techy, and they very easily adapt to using tech tools like our portal," he says. "Many of them worked in technology before retiring."
He points out that the technology needs will continue to transform. "My generation is going to want video game systems in their retirement communities."
Daniel indirectly works for the residents and directly supports the staff in the various departments so they can provide the best possible services to residents. The resident portal is central to this goal.
Currently, about 60% of the residents use the new portal, which launched in January 2022 and has many features that enhance life at the community. The portal is extremely user-friendly and word of mouth between residents has helped to expand its use.
In addition to implementing the new portal system, Daniel feels his biggest accomplishments since becoming IT Director include:
Upgrading Springmoor's in-house TV Channel 1341 to high definition.
Adding the North Carolina Reading Service (NCRS) to in-house TV Channel 1340.
Upgrading the auditorium with a quality projector and screen.
Migrating email to the cloud and adding security protections for staff users.
Migrating MatrixCare, Springmoor's electronic health record (EHR) software, to the cloud.
Adding a second business fiber internet line.
Conducting a cyber security training program.
A dynamic personal life
Daniel tells a great story of how he and his wife met. Almost 20 years ago, he was working in dining services at a retirement community, and Stephanie applied for a waitstaff position. After a couple of years, they started dating. Daniel was the sous chef and lead line cook at the community at the time, and Stephanie was the waitstaff supervisor.
In 2007, Stephanie proposed to Daniel during the middle of food prep. Daniel said, "You're serious right now?" She confirmed that she was, and he said "Yes!" They got married on April 26, 2008.
Originally from Pittsburgh, Daniel's family moved to Winston-Salem and then Greensboro in about 1990, and he lived in Greensboro until graduating from high school. After moving to Raleigh, he took two years of classes at NC State and then earned an associate degree in IT and several related certificates from Wake Tech.
Stephanie was born in Michigan, lived in Dallas as a young child, and moved to Raleigh when she was in middle school. The couple has three children. Daughter Olivia is 13 and enjoys competing in horse shows. Sons James and Jonathon are 5 and 10 months as of this writing (January 2023).
In his free time, Daniel enjoys video games like Super Mario. He owns numerous vintage gaming systems and figurines and keeps the boxes in mint condition. "Stephanie accommodates this hobby," he laughs.
Daniel is also a huge Steelers fan and follows the Pirates and Pittsburgh Penguins. His interest in football, baseball, and ice hockey means he can almost always find a good game to watch when he has free time.
Plan your visit to Springmoor today!
Like many CCRCs (Continuing Care Retirement Communities), Springmoor is an entrance fee community. Paying this one-time fee gives you access to all of our services, facilities, and amenities like our portal, in-house TV stations, and business center, as well as a full continuum of healthcare (and much more!). We offer guaranteed residency for life. Your monthly service package gives you maintenance-free living and predictability in your ongoing expenses.

Contact us today at 919-848-7080 to find out more about the wide range of exceptional activities we offer every day so that residents can live their best lives. Our friendly team is happy to answer questions about Springmoor's amenities and what's included in your monthly service package. You can also order a free information packet. We look forward to meeting you soon!