With a variety of safety protocols in place, Springmoor has welcomed new residents to our community throughout the pandemic. Our residents have enjoyed continuous socially-distanced services and a variety of opportunities for social interaction.
In addition to the members of our Welcoming Committee, other residents reach out to newcomers to help them feel at home from their first day living on our campus. Whether or not they have family at Springmoor or living nearby, our residents tend to feel supported and well-connected. You will often hear them say that other members of the community are "like family" to them.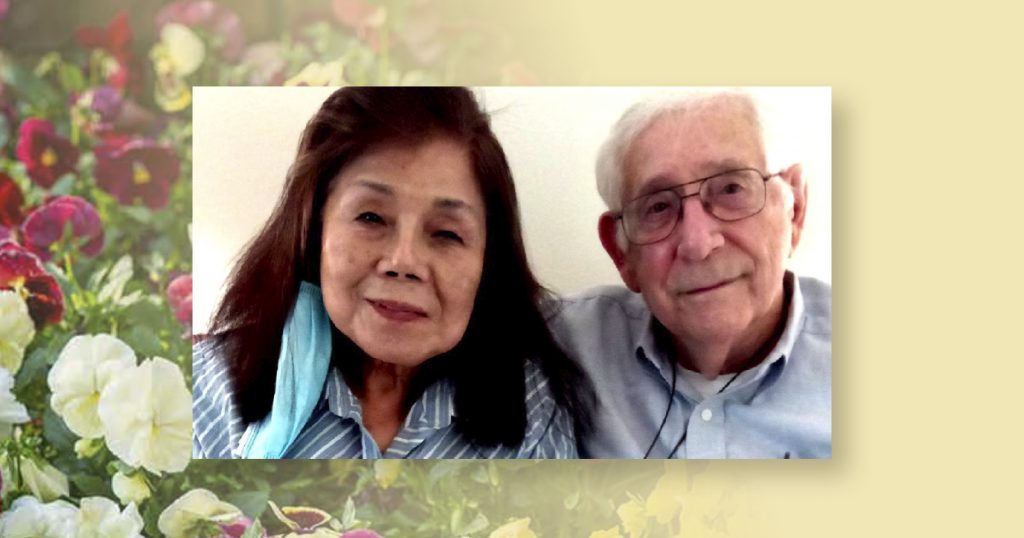 Meet Jim and Kyoko George
Jim and Kyoko George didn't have far to drive when they moved to Springmoor in January 2021. Their Raleigh home, where they had lived for 31 years, is only two miles from their new apartment. The journey that brought them here, however, began half a world away in Osaka, Japan.
Jim was a Navy hospital corpsman stationed in Yokosuka, Japan, when a mutual friend introduced him to Kyoko. She worked at a British bank and spoke some English. Her charm captivated Jim.
"I pursued her, she didn't pursue me!" he laughs. The pursuit succeeded, and they married in 1960. Jim and Kyoko have a son and a daughter, a dog and a cat, lovely Japanese furniture, and a remarkable lifetime of travel and memories.
Born in Ensley, in the Birmingham, Alabama, steel-making district, Jim joined the Air National Guard at the age of 17 and served for two years. He found he liked the military life. Which service to choose? A flip of a coin sent him to the Navy. Since he'd been working in a drugstore, the Navy decided to assign him to the medical corps.
Jim spent 30 years as an enlisted sailor and then an officer at Navy and Marine bases in the U.S. and Pacific regions. His last posting was at Marine Corps Air Station Cherry Point. After retiring with the rank of Lieutenant Commander, Jim joined the civilian world as a medical administrator. With a son studying at NCSU, Jim and Kyoko put down roots in Raleigh.
Jim had a typical growing-up in Alabama, but Kyoko's childhood in wartime Japan was marked by terror and loss. Her grandparents and uncles lived in California, and Kyoko and her big brother shared a fascination with America. Sadly, when the war broke out, her brother was forced to destroy his treasured letters, books, and records from the USA. He was drafted into the Japanese army and died in Burma at the age of 19.
Osaka, Kyoko's hometown, was bombed, and Kyoko remembers being awakened by her mother and rushed to shelter. "The sky was orange, like a sunset, and the incendiary bombs came down like rain." At the urging of her daughter, she has recorded an oral history of those times so that they won't be forgotten.
Eventually, Jim's assignment brought him back to the USA, and Kyoko was able to meet her grandparents and uncles. Her grandmother was able to hold Kyoko and Jim's daughter, a happy reunification of the family.
Jim and Kyoko's son now lives in Wake Forest, and their daughter nearby Springmoor in the Margate subdivision.
Jim and Kyoko had long planned to move to Springmoor, but felt the time was right when they found tending to their home and expansive lot becoming a bit too much work. They were offered a ground-floor apartment that makes it easy to walk their dog, Chiby. Her name means "Tiny" in Japanese, and tiny she is, not much bigger than Michan, the calico cat who shares with Chiby the affections of Jim and Kyoko.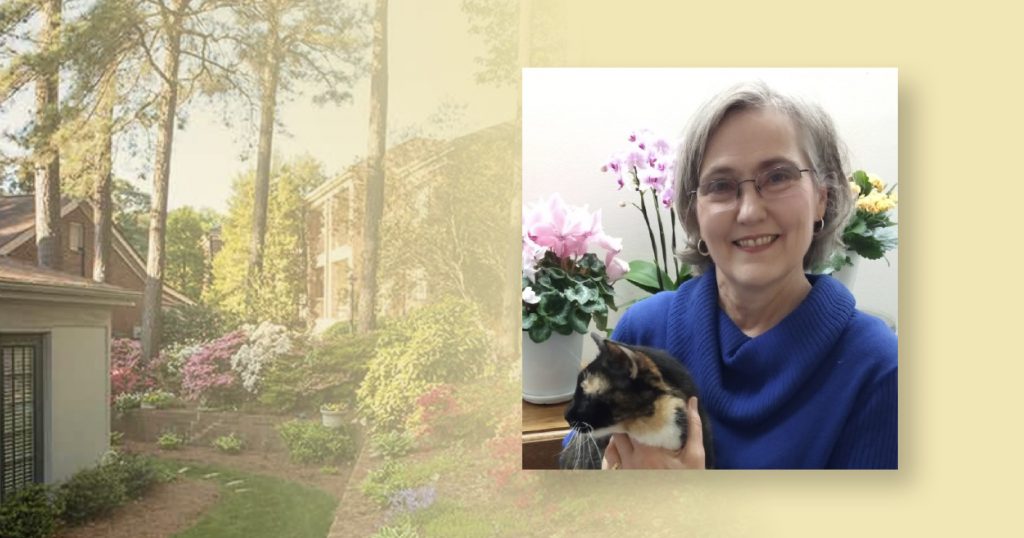 Meet Janet Carter
Janet Carter is full of surprises. She is that increasingly rare bird, a native of Raleigh. She moved here from Searstone, downsizing from a 2,000-square-foot villa there to her one-bedroom flat here at Springmoor. And Janet, who has an accounting business, is still actively working, though not full-time. She is also a handbell ringer. 
Janet's father, who had retired from the Marines, worked at what is now Monsanto in the very early years of RTP. Janet grew up in the Longview Gardens neighborhood near Wake Med and graduated from Enloe High School. Although she had begun to study nursing, love beckoned and Janet got married.
She did eventually earn her RN and worked at Wake Med, but when their son Matthew joined the family, Janet had to leave nursing. She and her former spouse bought Watkins Florist. "So I could take my son to work with me," Janet recalls, and they operated the business for 17 years.
The couple eventually divorced, and Janet began a new career as an accountant. In 1993, she married Marshall Carter, a Myrtle Beach, SC, native and mortgage finance executive whom she met through a friend. Their marriage lasted 25 years.
Janet and Marshall moved to the Searstone Retirement Community in Cary, anticipating aging together in their spacious retirement home. Sadly, Marshall passed away from cancer after a brief illness.
Now solo, Janet decided she needed a smaller, more compact place closer to her son and his family. Springmoor, a short distance from Matthew, his wife Meredith, and grandkids Mikey (6) and Ginny (3), was an attractive option. She was also drawn to friendly folks like Phyllis Mayo, whom Janet knew from church, and the lush physical setting of Springmoor.
After a two-year wait, Janet accepted an offer of a sun-filled one-bedroom flat on third floor West. On January 12, 2021, she and her sweet calico cat, Kinder, moved in. Janet has her home office snugly fitted into her bedroom where she continues to operate her accounting business part-time. She's also signed up for craft classes and looks forward to long walks around the campus as the weather improves. 
"I can't wait to bring my grandchildren over for visits," she says, smiling.
Thank you to Springmoor resident Ann Sides for interviewing these new residents and providing this wonderful information that helps us get to know them better.