Category: Culinary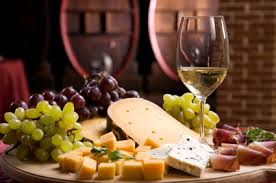 You are invited… to a Wine and Cheese Social
Each quarter, the residents are treated to a Wine and Cheese Social in The Springs and The Willow Springs. Luke Campbell, our Dining Services Director, has brought his wine expertise to these wonderful events.
The Wine
He selects the wines for each season. In the fall, he recommends a spicier wine such as a Gewürztraminer. In the winter months, he picks a bolder more complex wine, such as a Bordeaux or Cabernet Sauvignon. In the spring, a little lighter wine, perhaps a Riesling. And in the summer, during the hottest southern months, he chooses a more fruity variety such as a Rose' or Sauvignon Blanc.  Luke tells us he "also looks at the ratings of the wines, as I try and find wines that are rated above 85-90, that are reasonably priced, so that if a resident likes it, they can go pick up a bottle."
Luke tries to make the event a tasting one as well as a fun night out. Albert Callaway, a Springmoor resident, tells us that he "enjoys the fellowship not only with the residents but the staff members who handle the events." He has visited wineries in both North Carolina and California. He said he is always interested to learn more about the wines and cheeses and has bought a few that Luke has served.
The Cheese
The wine is paired with a selection of cheeses chosen by our Chef, Dennis Daly and our Catering Manager, Beth Estrada. The assortment of cheeses and fruits varies by season. The editors at Wine Enthusiast tell us there are a number of considerations to consider when pairing wine and cheese. They divide the cheeses into four simple groups:
Bloomy – a creamy, decadent cheese with a soft rind, which goes well with a Champagne, Chardonnay or Pinot Blanc
Hard – a sharp, salty cheese that is often aged and is best paired with a Merlot, Cabernet Sauvignon, Chianti or Zinfandel
Blue – a pungent blue-tinged salty cheese that tastes best with a Port, Riesling or Sauterne
Fresh – typically a soft spreadable cheese with a tangy or mild flavor. These cheeses are best with a Pinot Grigio, Sauvignon Blanc and Beaujolais
The Appetizers
There are always other delicious appetizers to enjoy too. Our dining service makes this a perfect evening to welcome new neighbors and catch up with friends. The Springs in North Village and The Willow Springs in South Village are always filled with an overflowing crowd for this enjoyable social event.
Along with the Wine and Cheese Socials, our dining staff has introduced a Wednesday night Appy Hour. Both bars are filled with laughter, great food and lively conversation. Luke has a rotating menu of appetizers that he and the staff prepare for each event. Homemade Potato Skins, Mozzarella Sticks, Mini Chicken Cordon Bleus, Pretzel Bites and Little Smokies, just to name a few, are on his list. He tells us the Potato Skins have proven to be one of his most popular options. Of course, like any chef, there are many more creative recipes on the list for the upcoming year. The spirits for the evening are typically divided evenly between reds, whites and beer options. Continue reading →