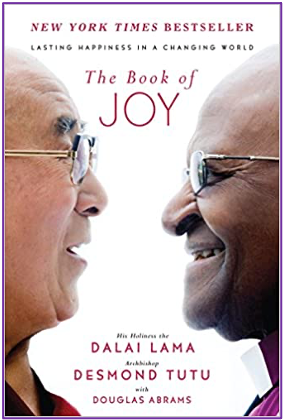 Book Discussion Group: Lasting Happiness in a Changing World
Date
January 19, 2021
Time
3:30 pm
Cost
FREE
Join us for the Springmoor Book Discussion Group as we review The Book of Joy: Lasting Happiness in a Changing World.
Nobel Peace Prize Laureates, His Holiness the Dalai Lama and Archbishop Desmond Tutu, have lived through more than fifty years of exile and the soul-crushing violence of oppression. Despite their hardships — or, as they would say, because of them — they are two of the most joyful people on the planet. In April 2015, they spent a week at the Dalai Lama's home in Dharamsala, India, to celebrate His Holiness' eightieth birthday and to create what they hoped would be a gift for others. They looked back on their long lives to answer a single burning question: How do we find joy in the face of life's inevitable suffering?
They explore the Nature of True Joy and confront the Obstacles to Joy – obstacles of fear, stress, and anger, as well as grief, illness, and death. Throughout, they include stories, wisdom, and science. Finally, they share their daily Joy Practices that anchor their own emotional and spiritual lives.
Please call or email the Springmoor Chaplains to order a book and/or to register for this in-person discussion. Books are approximately $14 each.
Currently we are allowed to gather in groups of 10. For all indoor in-person gatherings; reservations are required through the Pathways Hotline (ext. 7700) or resident portal.
---