Dallas and Jackie Brown are true southerners, having lived in Raleigh, Charlotte, Atlanta and Biloxi, and for the past 31 years, they've called Raleigh home. With two daughters, five grandchildren, one great grandchild—and another great grandchild on the way—their life is full.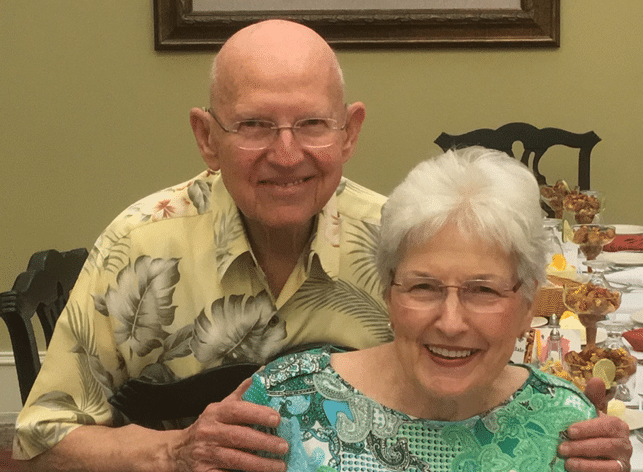 While the couple envisions many family gatherings in the years ahead, they knew it was time to consider the retirement communities in NC when five years ago, Jackie found it difficult to keep up with cooking and housekeeping.
A decision years in the making
Dallas and Jackie were familiar with Springmoor as Jackie's close friend from church already lived there. "I couldn't get over the care she received," Jackie said. "When her health declined, they made sure all her needs were met. Everything was about her."
They also liked that Springmoor was close to their friends, church and their eldest daughter, who as an RN was instrumental in helping Jackie through her changing health needs.
"We visited a few places, but in the back of our minds, we knew Springmoor was our choice," Jackie shared. After a tour of the community and a delicious lunch, Dallas and Jackie decided to call Springmoor home.
Today, the couple lives in a spacious two-bedroom, single-family home within one of Springmoor's beautifully maintained neighborhoods within the park-like campus. With occasional overnight visits from their grandchildren, Dallas and Jackie appreciate the home's second bedroom. They've also taken advantage of a previously converted screened-in porch that now serves as a study—adding to the home's more than 1,400 square feet of living space.
Peace of mind
Dallas and Jackie love their quaint home, and they value Springmoor's life-enhancing services and the peace of mind it brings them. When Jackie had an injury, she found everything she needed to rehabilitate at Springmoor's Stewart Health Center and the Springmoor Physical Therapy Center. "The greatest gift is to work through an injury with services right outside your door," Jackie shared.
Socializing—southern style
But most of all, Dallas and Jackie enjoy Springmoor's lively dining scene and socialization. The dining room features special meals on Thursday and Friday evenings, and the Browns often invite friends from outside the community to join them in a private room. After years of cooking, Jackie especially likes the restaurant-style dining offered at Springmoor.
The couple also participates in Springmoor's special dinner events. On June 20th, they attended a Latin-themed dinner and gala. Dallas, in his Hawaiian shirt, and Jackie, in her colorful dress, joined a table of six close friends and savored a delicious meal of seafood and prime rib.
"It's a warm and friendly place," Dallas said. "There are no cliques and it's easy to make friends." Jackie sees socialization as an important aspect of senior living. "We enjoy one another's company because we're all in similar situations."
Dallas believes that moving to a continuing care retirement community depends on where you are in retirement, but for this happy couple, it was the right decision. "We have nothing but good things to say about Springmoor," Jackie said.
If you are looking at retirement communities in NC, and want the security of a Life Care Retirement Community, call us at 919-651-4844 to learn more about Springmoor, or visit us online to request a personalized tour.