When you plan for retirement, you have to consider many factors: services, amenities, residence options and the location — not just what is offered inside the community, but around the community. What's nearby? Choosing a Continuing Care Retirement Community, or CCRC, in North Carolina comes with quite a few perks, including stunning geography, solid beneficial tax laws and weather that is more accommodating, while still providing the seasonal changes that many of us love.
Are you a fan of college sports?  North Carolina is famous for its collegiate level basketball and football.  So, whether you are a Duke fan, a UNC fan or an NC State fan, North Carolina has a variety of top-tier teams available for your enjoyment through the different seasons. If those aren't your sports, the Carolina Hurricanes NHL team thrills at PNC Arena in Raleigh.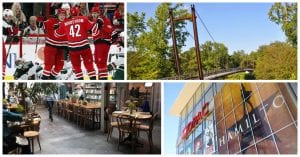 The food and wine scene in North Carolina is booming!  Every week a different food/wine/culture magazine is showcasing a different city in North Carolina. The wineries and restaurants available are limited only by your imagination and willingness to travel a little. With more than 400 vineyards and 200 wineries in North Carolina, you are certain to find something that suits your taste. From Carolina style BBQ to French cuisine and — of course — seafood, North Carolina also boasts many award-winning restaurants as well as at least one local favorite in every city and town.
North Carolina's varying geography and history provide something for everyone. From 35 plus state parks (and more state natural conservation areas) as well as lakes, rivers, mountains and — of course — the famous shoreline, North Carolina was built on the backs of determined settlers and adventurers.  The Scotch-Irish history of the mountains and foothills is celebrated every year in the (as of 2018) 64-year-old Grandfather Mountain Highland Games.  The long coastline of North Carolina is home to many historical events as well. On December 17, 1903, Orville and Wilbur Wright made Kitty Hawk famous by flying the first controlled, powered aircraft in human history. In addition, there is a longstanding connection to Pirates during the Golden Age of Piracy in the Outer Banks.
Seasonal changes also bring tourism to North Carolina. Why be a tourist when you can look out your windows and already be a short drive to some of the most scenic roads lined by the changing leaves of fall? Mild winters that keep some of winter's charm and none of winter's potential brutality are also a strong draw to North Carolina. When you choose to make Springmoor your home, it's all in your backyard. Reach out to us today at 919-651-4844, or stop by – we'd love to meet you!