Ping Pong, Putting on the Green and a Fitness Hour
January 22, 2018 - 8:30 am
What's on your schedule today? It's Monday – let's get some exercise!
8:30  Ping Pong
North Village Meraki Arts Studio near the breezeway
We welcome new players. Round Robin games with lots of laughs, topspin and slices.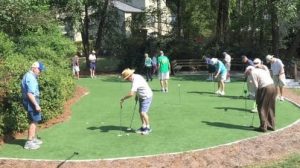 1:15   Putting On The Springmoor Green
North Village behind the West Wing
Friendly competition and newcomers are always welcome – Most Holes In One, Closest to the Pin, Low Score. Prizes too!
1:30  Ask A Trainer
North Village Exercise Room, 2nd floor near the Breezeway
The trainers will be available to help answer your questions about equipment, exercises and fitness.